"We cannot compensate for increased prices for imported oil, the development of the dollar and shortages at refineries with state money in the long run," Lindner told DPA.
The €9 ticket and fuel tax cut were both introduced for a three-month period from June to offer people relief on transport costs amid soaring energy prices.
However the Green Party, who are in the governing traffic-light coalition alongside the Social Democrats (SPD) and the Free Democrats (FDP), are believed to be in favour of prolonging the cheap public transport deal after September if it is proven to be a success. 
Speaking to DPA on Monday, Lindner rejected claims that either the cut on energy tax on petrol or the €9 ticket would remain in place in autumn.
The fixed-price ticket makes it impossible for operators to use price signals to indicate to customers where there is high or low demand, Lindner said. 
READ ALSO: €9 for 90: Everything you need to know about Germany's cheap travel deal
"Steps towards free public transport are problematic because scarcities (e.g. in seating) cannot then be controlled by price." 
Without differentiated prices for peak and off-peak times, capacity on trains and buses could be used "excessively", he argued. 
Lindner's comments come just days after Transport Minister Volker Wissing (FDP) ruled out longer term cuts to ticket prices.
"In the long run, it's not possible," he said on RTL 'Frühstart' programme. "Because the ticket costs over a billion euros a month."
Fuel discount doubts
Lindner also defended his flagship energy relief measure – a cut in energy tax levied on fuel to offer relief to drivers.
In recent weeks there have been doubts about whether oil companies have passed their tax savings onto consumers, as both petrol and diesel have remained at around €2 per litre since the tax cut came into force in June. 
"The price level at the pump has dropped significantly in recent weeks," Lindner said. "The development is better than abroad. For commuters and motorists, the relief is noticeable." 
He added that the temporary tax cut had also ensured that the government doesn't profit from excessive inflation.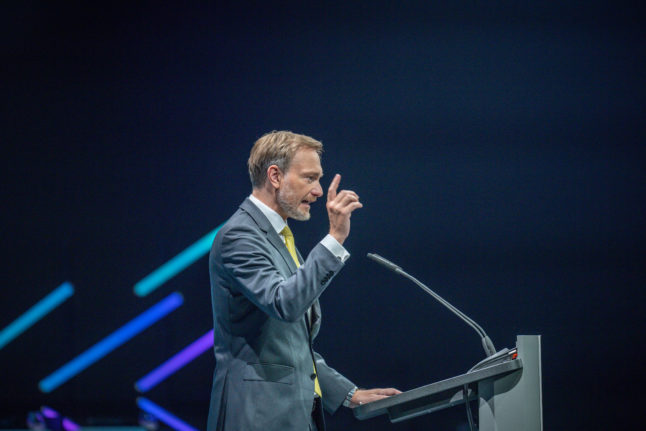 Finance Minister Christian Lindner (FDP) speaks at the Federation of German Industry's "Day of Industry" event in Berlin. Photo: picture alliance/dpa | Michael Kappeler
"We levy energy tax and value-added tax on petrol," he said. "In view of the increase in global prices, the state's revenues are set to rise this year. That is why we lowered the energy tax for three months to give back to car owners some of what they would otherwise pay to the state."
Over the past week or so, there have been discussions about future measures to tackle rising consumer prices. 
Lindner said he thought that an increase in social security payments and an adjustment in income tax rates to counter inflation were both on the cards for this year. 
READ ALSO: