Inflation in Germany recently hit a 40 year high at 7.4 percent – and experts warn it will increase further. 
Along with soaring energy prices, many everyday grocery staples, like milk and bread, have gone up in price significantly. 
But some tenants in Germany face another hurdle – rents that are linked to inflation. 
Some landlords or property companies include clauses in contracts for the cost of rent to go up. They can include a Staffelmiete (stepped rent) which means the rent increases gradually over time (but there are limits).
An Indexmiete (index rent) clause in rental contracts means the rent is based on the Consumer Price Index set by the Federal Statistical Office (Statistisches Bundesamt) and may be increased in line with the cost of living in Germany. The rent increase can happen once per year.
READ ALSO: Why tenants in Germany could see bigger rent increases this year
Given the strong competition for housing in many of Germany's cities, such as Munich and Berlin, tenants often sign contracts despite the rent hike clauses. 
But nobody could have predicted how bad inflation would get this year. Energy prices in particular have rocketed since Russia's brutal invasion of Ukraine which started on February 24th.
Now some tenants' associations in Germany are demanding that Index-linked rents be capped. 
The need for advice on index-linked leases is increasing, Anja Franz, lawyer and spokeswoman for the Munich Tenants' Association, told regional broadcaster BR24.
In the past years – when inflation was very low – rents like this only ever rose by one to two percent, and tenants had very few problems with this. At the moment, however, tenants are facing increases of 7 to 10 percent on their monthly rent.
Adding to the problem is that landlords who have not increased the Indexmiete in the past years can add the inflation rates from that time on top of current hikes – creating huge increases. 
However, landlords can also choose to wait to increase the rent, and only refer to the index figures published by the Federal Statistical Office next year or the year after.
READ ALSO: Altbau vs Neubau: What's the difference and which should I rent in Germany?
What's happening in Bavaria?
Bavaria is known for having some of the most expensive rents in Germany.
In many Bavarian cities and districts, landlords are likely to use the options available to them to increase rents, according to Rudolf Stürzer, chairman of the Haus und Grundbesitzerverein (House and Landowners Association) München. That's because up until now index rents haven't been lucrative for landlords. In the last 10 to 15 years, the index rose much slower than the market rent. Now that's changed.
The Mieterverein München (Munich Tenants' Association) advises those affected to first check whether the calculation is correct when they receive notice of a rent increase from their landlord or housing company.
Furthermore, tenants should check the time interval since the last rent increase. A waiting period of at least one year from the previous rent increase applies.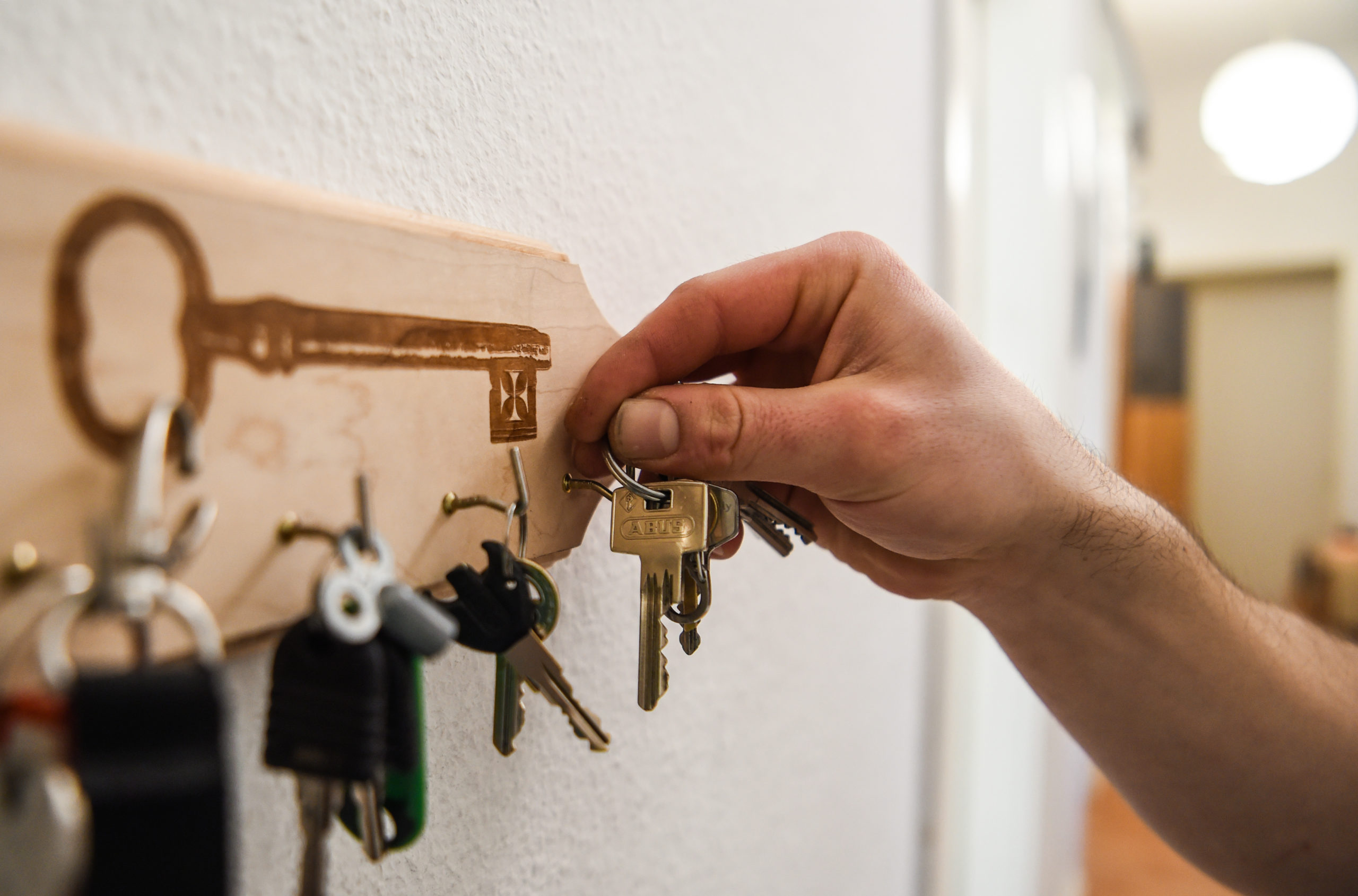 A man hangs up his keys in a Berlin apartment. Photo: picture alliance/dpa/dpa-Zentralbild | Kira Hofmann
In principle, tenants who have signed an index-linked rent are bound by this clause. If the landlord demands an effective rent hike, it must be paid.
The Munich Tenants' Association estimates that three to five percent of its members have index-linked tenancy agreements. In the past, the association even advised that people to sign these contracts – but now they advise against it.
The Haus und Grundbesitzerverein believes that index-linked rents have already been agreed for two-thirds of all new contracts in Munich.
The tenants' association says index-lined agreements become a bigger problem when the initial rent set is already high. 
They are calling for specific legal upper limits for index-linked rents to be set in Germany to avoid overburdening tenants.
Under standard tenancy agreements rents can rise by no more than 20 percent over three years. In Frankfurt am Main and other places were the rental market is competitive, this cap has been reduced to 15 percent.
The traffic-light coalition wants to reduce this further to 11 percent nationwide, which would mean an increase of less than four percent per year.
The German Tenants' Association (DMB) also recently slammed the fact there are no cap limits for index-linked rents.
Lukas Siebenkotten, President of the German Tenants' Association (DMB), told DPA in April that a regulation like this for index-linked tenancy agreements "would be a sensible remedy" to protect renters in Germany.