Why Germany could soon see widespread public sector strikes
Negotiations on wage increases for rubbish collectors, kindergarten teachers, nurses, doctors, lawyers and bus drivers - among others - in Germany will begin on Tuesday. But union bosses have already threatened widespread strikes.
What's going on?
The service sector union Verdi and the civil service union DBB want to see a 10.5 percent pay increase for public sector workers in Germany.  
Verdi Chairman Frank Werneke and his deputy Christine Behle, and DBB Chairman Ulrich Silberbach, will be negotiating on behalf of more than 2.5 million people in the service and public sectors – from public administrators to kindergarten teachers.
READ ALSO: Postal workers across Germany go on strike
Negotiations begin on Tuesday, with Federal Minister of the Interior Nancy Faeser (SPD) bargaining for the government and president of the Federation of Municipal Employers' Associations (VKA), Karin Welge (SPD), for the municipalities. 
What are they asking for?
Verdi and the DBB are demanding 10.5 percent more income, or at least €500 more per month, for their members.
They are also demanding a pay increase of €200 per month for trainees, students and interns and that apprentices be offered permanent employment after successfully completing their training.
A renegotiation of salaries after 12 months is also on the list of demands. The unions have so far rejected tax-free one-off payments, which had been accepted in other wage settlements in 2022.
Why are they asking for so much?
A 10.5 percent increase sounds like a lot and is more than previously demanded by the unions in major industries such as metal and chemicals. However, Verdi Chairman Frank Werneke told the Süddeutsche Zeitung that the demand is absolutely reasonable in view of an inflation rate of 7.9 percent in 2022.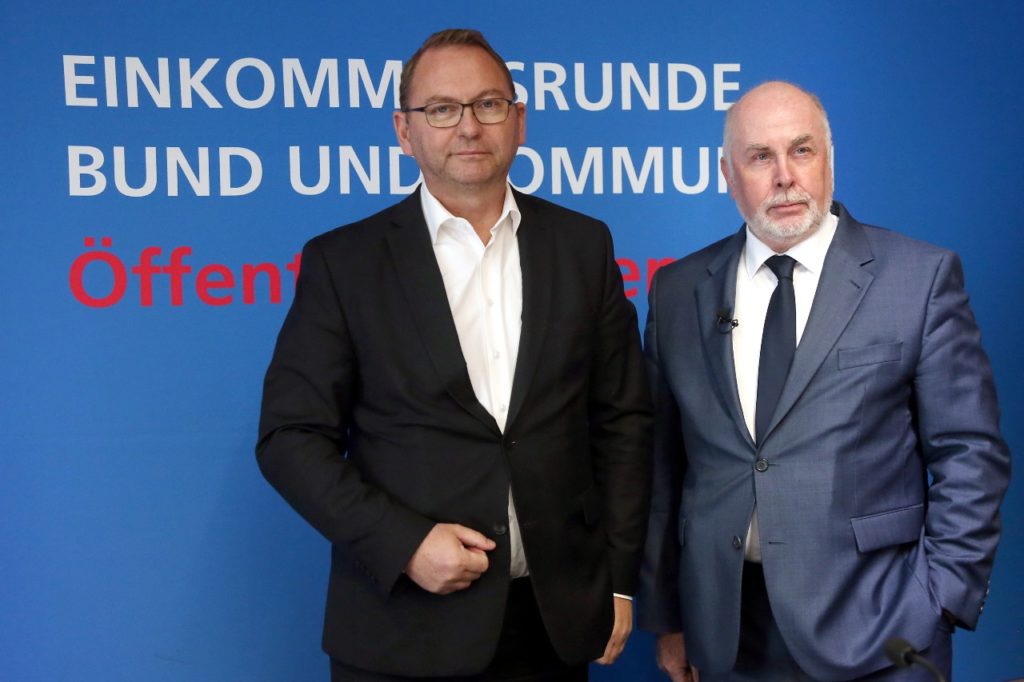 Frank Werneke (L), chairman of the Verdi union, and Ulrich Silberbach, DBB civil service association, answer questions from journalists at a press conference in October 2022. Photo: picture alliance/dpa | Wolfgang Kumm
"Inflation is eating a hole in people's wallets. Prices are galloping, utility costs are skyrocketing," he said.
He also said that lots of employees would have to supplement their wages with Bürgergeld – the new form of unemployment benefit which has replaced Hartz IV - if they did not receive a pay increase.
READ ALSO: Germany sees record post-war inflation in 2022
Werneke said that the focus of the collective bargaining round would be on employees with low or medium incomes: "On the garbage workers or administrative employees who go home with €2,000 before tax and still have to pay the prices of Munich and other big cities."
How likely are strikes?
The Association of Municipal Employers' Associations (VKA) already described the demands as "simply not affordable" after they were presented in October.
"We understand the concerns of employees in view of the current high inflation, but municipal employers are also in an enormously difficult situation," said VKA President Karin Welge.
According to the VKA, the cost of the demanded wage increase for municipal employers would be around €15.4 billion and, according to the Ministry of the Interior, would cost the federal government around €1.4 billion per year.
Federal Interior Minister Nancy Faeser (SPD), who is leading the negotiations on behalf of the federal government, said in a statement on Monday: "The unions' demands are high and they come up against a tight budget situation, especially in the municipalities."
While the negotiators for the government seem ready to reject the demands, it looks like the unions are ready for action - suggesting that strikes could be on the horizon.
In early January, Werneke already reported an "unusually high level of commitment" on the part of employees in this round of collective bargaining.
READ ALSO: Berlin airport cancels all passenger flights on Wednesday due to strike
"In the almost 22 years in which I have now been a member of the Verdi Federal Executive Board, I have never experienced such great determination on the part of employees as today to become actively involved in the collective bargaining movement,"  Werneke told the German Press Agency. 
Werneke also said that the likelihood of strikes will depend will on whether federal and local government employers present a wage offer for the second round of negotiations in February that would make an agreement possible.
"Unfortunately, the bad habit of not making a serious offer at all until the last night of negotiations has taken hold. Those who act in this way should not complain about warning strikes," he said. Such strikes would affect the entire public sector, he added.
When would strikes happen?
Verdi deputy chairwoman Christine Behle, has said that strikes are "factually possible from January 25th," when the first round of negotiations will be over.
The dates for the next two rounds of negotiations have already been set for February 22nd and 23rd and for March 27th to 29th. Verdi Chairman Frank Werneke has urged the federal and local government to present a wage offer before the second round of negotiations in February that would allow an agreement to be reached. It's therefore likely that warning strike action could happen in February, to put further pressure on the negotiations, but it's not yet clear how long such strikes would last. 
See Also