REVEALED: How property prices in Germany are sinking dramatically
According to the latest survey from property portal ImmoScout24, German cities saw a major drop in house prices at the end of last year. Could the downward spiral continue in 2023?
It's an unusual situation in the German housing market. For years, property prices only ever went in one direction: upwards. But with interest rates rising at a pace not seen in decades, the cost of borrowing to buy a house has gone up - and many potential buyers appear to be questioning whether it's still affordable.
According to the latest survey from property portal ImmoScout24, this is already having a significant effect on asking prices, which have fallen by as much as ten percent in some areas of the country. 
The cost of buying an existing flat in Germany slipped by 4.3 percent between the third and fourth quarter, with buyers now shelling out an average of €2,714 pre square metre. Meanwhile, new-build flats saw an even more dramatic drop, with this type of property losing 6.4 percent of its value and ending up at around €3,901 per square metre. 
For single-family homes, the trends went in the opposite direction, with new-builds holding their value more than existing houses.
Here, the price decline of existing properties was 4.5 percent, while the price of new apartments slipped by 2.7 percent on average compared to the previous quarter. Nevertheless, in both cases asking prices were higher here compared to the same period last year: existing flats and houses went up by 3.5 and 2.7 percent respectively and new-build flats and houses increasing by 0.2 percent and 7.3 percent year-on-year.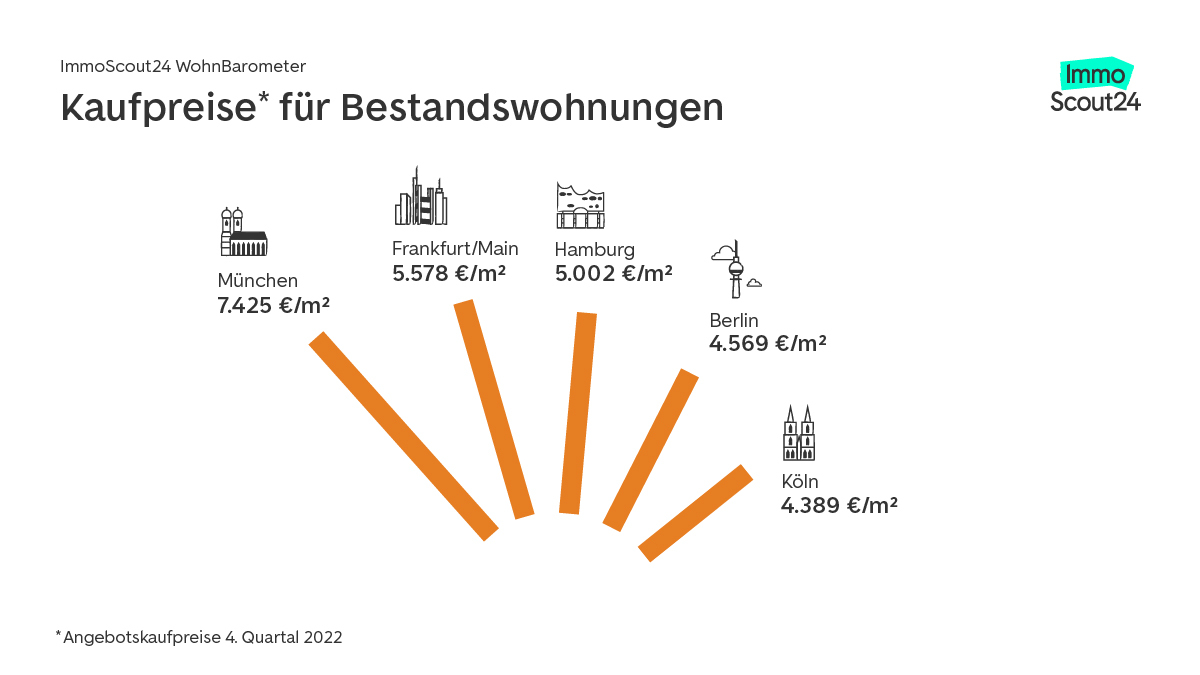 The price of existing properties in the major German cities. Source: ImmoScout24
"The last few months have been characterized by a phase of waiting and speculation on falling prices," said Dr. Gesa Crockford, Managing Director of ImmoScout24. "In the current situation of excess supply, prospective buyers have the momentum on their side. The fact that prices are now falling shows that the market is working."
Trend reversal in major cities
Over the course of five years average prices for houses and flats have gone up by an astounding 63 percent. The price hikes have been particularly dramatic in metropolitan areas like Munich, Frankfurt and Berlin - but even these high-demand areas don't appear to be immune from the current downwards trend.
The analysis from ImmoScout24 showed that, while demand for properties bottomed out in the third quarter, there was a slight uptick in interest from buyers in Q4. However, demand remained lower than it was in Q4 of 2019 - before the pandemic - and asking prices also dropped significantly between autumn and winter. 
Out of Germany's metropoles, Hamburg saw the biggest price correction over this period, with the price of existing houses and flats dropping by 8.5 percent and 6.2 percent respectively. ImmoScout analysts believe this could be due to the successful rental market in the Hanseatic city, where construction is relatively fast-paced and supply tends to keep up with demand. The drop in asking prices also reflects a more longer term trend, with the price of housing falling year-on-year in all sectors in Hamburg - especially in the case of new-build flats, which fell by 8.8 percent. 
READ ALSO: Is it better to buy or rent in Germany right now?
Berlin also saw a drop in asking prices towards the end of the year, with new-build flats going down by 6.6 percent and existing flats dropping by 5.3 percent. However, the longer term trend continues to look positive for people who own an apartment in the capital, with existing flats going up by 2.8 percent year-on-year and bucking the trend of declining prices. Currently, an owner-occupied flat will set you back €4,569 per square metre in the nation's capital, while a new-build costs an average of €6,042 per square metre.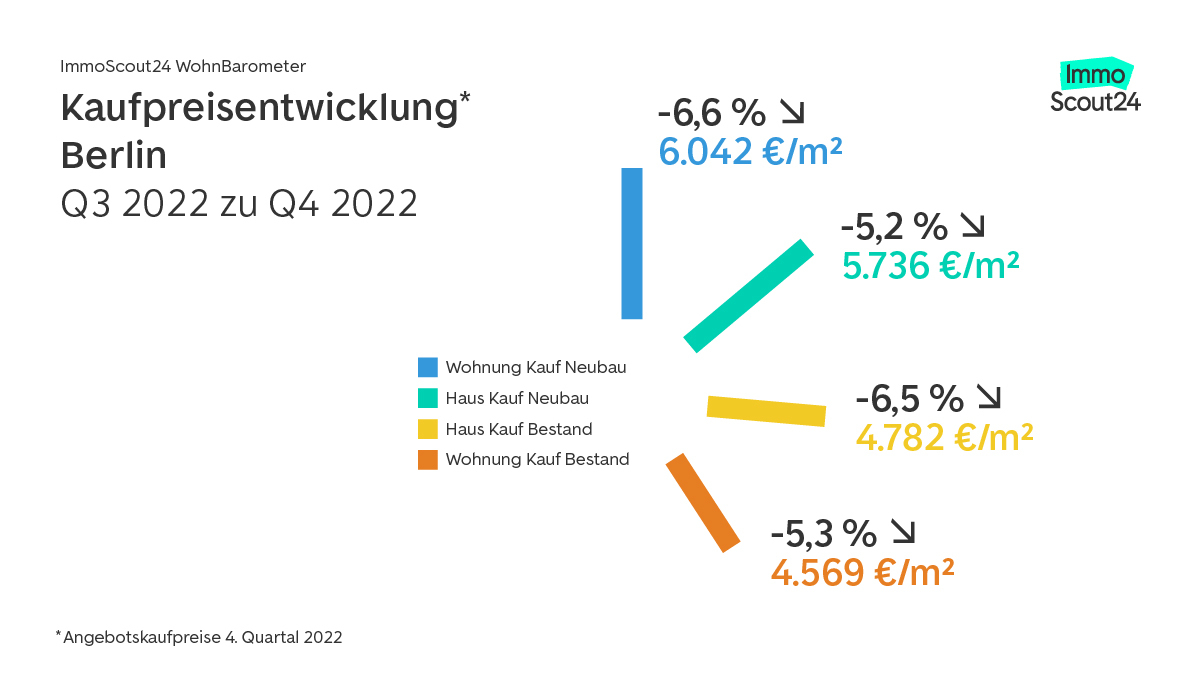 Prices dropped steeply in the German capital of Berlin between Q3 and Q4. Source: ImmoScout24
In Frankfurt am Main, the asking prices for existing flat remained relatively stable and, with a difference of 0.2 per cent, remain at approximately the same level as in the previous quarter. And in new builds, too, Germany's financial capital recorded the smallest price decline in a metropolitan comparison, at minus 2.8 per cent.
Munich, which often tops the charts as the most expensive city in Germany, saw the biggest decline in new-build houses between the third and fourth quarter. These dropped by seven percent to an average asking price of €10,153 per square meter, while existing houses fell by 3.8 percent to €8,535 per square metre on average. For people looking for a flat in the Bavarian capital, both new-builds and existing properties fell by more than four percent in the fourth quarter, with buyers asked to shell out an average of €9,411 per square metre for a brand new flat and €7,425 for an existing flat. 
The steepest drop of all, however, was in the North Rhine-Westphalian capital of Düsseldorf, where the asking price for existing houses dropped by an average of 10.3 percent at the end of the year. 
A temporary blip? 
The question for many owners - and prospective buyers - is whether the drop in prices is a short-term thing or the indication of a potential long-term trend. 
Given that prices still remained higher at the end of 2022 than they were in 2021, experts believe that the price corrections won't have a major effect on Germany's housing market in the long run. 
This also has to do with the fact that the population is increasingly rapidly in Germany, and the government has so far been unable to meet its target of 400,000 new homes per year. 
"Compared to the price increase of the last five years, the price correction can be classified as moderate," Dr. Crockford explained. "A sustained decline in prices is not to be expected, as the new construction targets of the German government have moved into the distant future. We expect a tightening of supply in the medium term, which may turn the market around again."
READ ALSO: What experts say will happen to the German housing market in 2023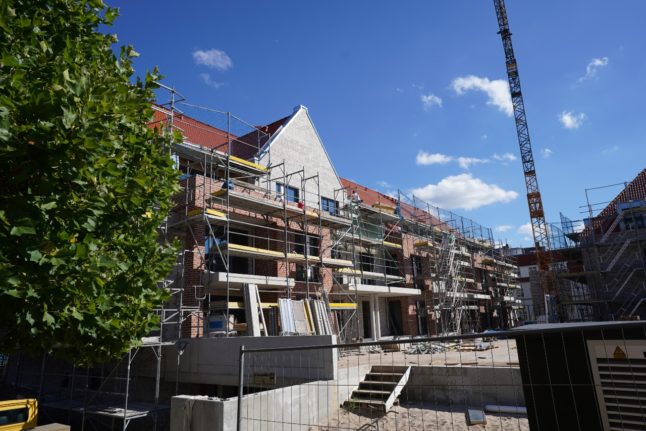 New properties being build in Rendsburg, Schleswig-Holstein. Slow construction is preventing a steep decline in prices. Photo: picture alliance/dpa | Marcus Brandt
According to figures released by the German Construction Association, 74 percent of all construction companies complained of delays in 2022 and around one third were affected by contract cancellations. Meanwhile, a study by the Hanover-based Pestel Institute found that the housing deficit at the end of 2022 reached 700,000 flats nationwide - almost three times as many as were built that year. 
This has put major pressure on both the rental and the purchase market. 
"The current market situation will only last for a limited period of time," Dr. Crockford explained. "The construction industry and especially new construction have stalled and the federal government must counteract this trend. Otherwise, the situation on the housing market will continue to worsen.
"In the metropolises, we are already seeing signs that demand is picking up again among prospective buyers," she added. 
Rental prices still on the rise
With many prospective buyers delaying their home-owning dreams amid high interest rates and the rising cost of living, Germany's already-strained rental market is under increased pressure.
This might explain why rents are rising at present, with ImmoScout24 reporting a one percent uptick in average rental prices between the third and fourth quarter of the year.
High energy bills have also had a major impact on the cost of renting, with Nebenkosten (additional costs) rising by a staggering 18.3 percent. 
READ ALSO: EXPLAINED: Why falling property prices in Germany mean tougher times for tenants
See Also