How many people have had their vaccine so far?
More than 1,554,355 people (1.9 percent of the total population of more than 83 million people) have now received a first dose of the Covid-19 vaccine (as of January 25th). A total of 228,763 people have received both doses, according to the government's vaccination dashboard, which is updated regularly. 
How slow is the process going in Germany?
If the rollout continues at the current rate, it will be a long time before everyone is inoculated against coronavirus. 
In fact a new 'vaccination date calculator' (more on that below) gives an idea of how slow it's actually going: if the current rate continues, the calculator estimates it would take more than four years until everyone in Germany receives their jabs.
However, the government has vowed to ramp up the speed of the process – so it doesn't look like this will actually be the case (phew).
Health Minister Jens Spahn acknowledged on Friday that many people are frustrated over the speed of the campaign since it started around a month ago in Germany.
"It is not happening fast enough for many people, and I would also like to have more vaccines available," said Spahn.
However, Spahn still expects to be able to offer everyone in Germany a vaccination by summer.
READ ALSO: German Health Minister admits mistakes in Germany's vaccine strategy
So why is it off to a slow start?
There are a few reasons for that. One is the supply issues.
Earlier this month, Pfizer, which started delivering shots in the EU at the end of December, announced there would be a temporary impact on shipments in late January to early February caused by changes to manufacturing processes.
It means there are even fewer doses than originally agreed.
This is had a big impact on Germany. The most populous state of North Rhine-Westphalia said on January 20th it was delaying the opening of new vaccination centres by a week to February 8th due to the temporary slowdown of deliveries of vaccines from Pfizer and its German partner Biotech.
Meanwhile, there's also been criticism of the bureaucratic process and way each state is rolling out the vaccinations.
EXPLAINED: What's gone wrong with Germany's vaccine strategy?
When might I get a vaccine?
The vaccination date calculator project we mentioned above, which has been developed by Philip Maus of the University of Pisa and Bogna Szyk of the Polish start-up Omnicalculator, gives a rough idea of when people can expect to be vaccinated.
You can enter information about your age, occupation and previous illnesses. Based on this, you are then told the time frame in which your vaccinations could take place if the current order is adhered to and, as announced so far, 670,000 vaccine doses are distributed per week – as planned by the federal government.
The calculations of the duration take into account the government recommendations on the prioritised order of different population groups as well as surveys on the willingness to be vaccinated.
For example, a 55-year-old person who is not in a high-risk occupation – such as nursing – and has no pre-existing conditions and no contact with people at increased risk of infection, could receive their first vaccination in the period from early August 2021 to February 2022.
A 62-year-old person with the same profile could receive their first vaccination as early as between May and August this year.
The prerequisite is that 670,000 vaccine doses are distributed every week.
However, according to the Robert Koch Institute (RKI), this quota is currently not being reached: as of January 20th for example, only 539,337 people received a vaccination dose in the past seven days. However, there are far-reaching plans to procure and distribute more vaccine more quickly.
In which federal states are vaccine doses distributed the fastest?
Measured by the size of the state's population, Mecklenburg-Western Pomerania and Schleswig-Holstein have had the most vaccinations so far: the vaccination rate in Mecklenburg-Western Pomerania is 2.8 percent, in Schleswig-Holstein 2.6 percent, reported the Tagesspiegel last week.
In Berlin, the vaccination rate is 1.6 percent. Bringing up the rear is Baden-Württemberg with just 1.2 percent of the population.
How fast does Germany vaccinate in international comparison?
In an international comparison, the most vaccine doses so far have been given out in Israel as the charts below by World in Data show.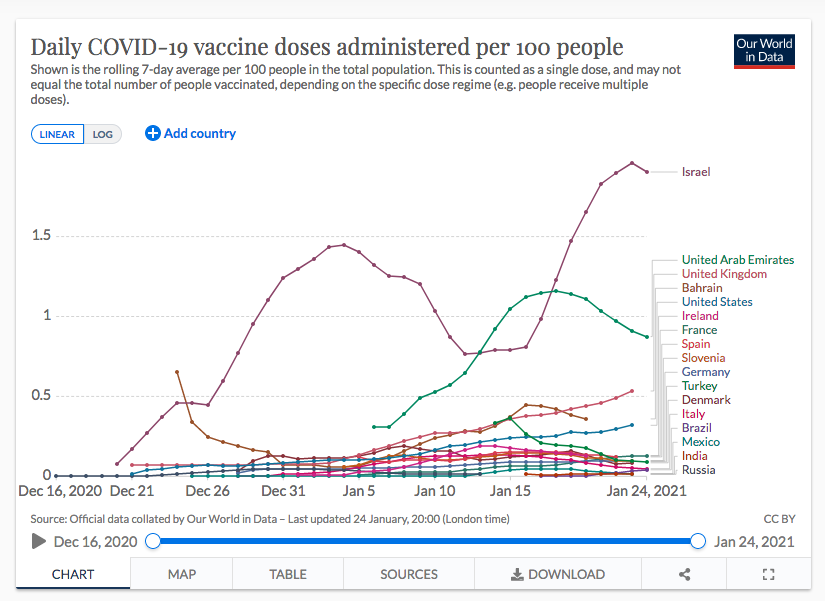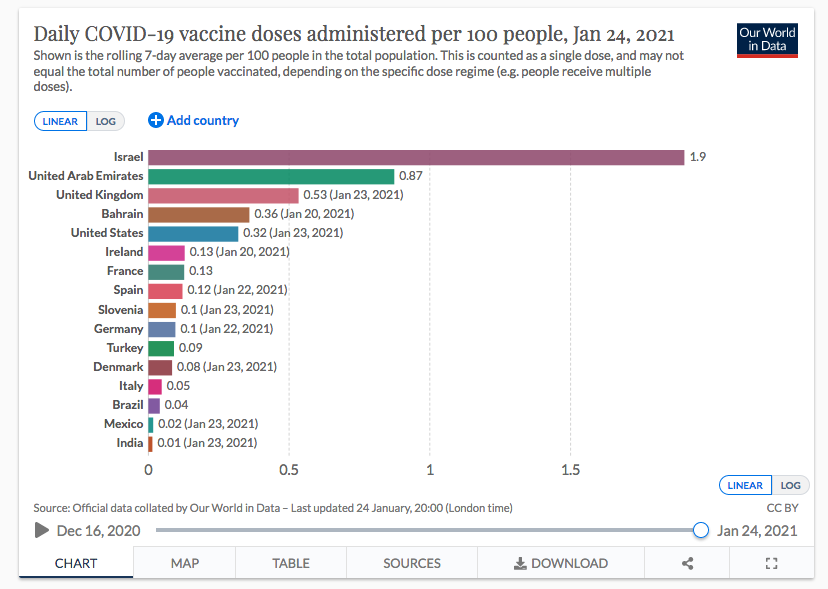 In what order are vaccinations given out in Germany?
As the vaccine supply is scarce, people who belong to the highest priority group are receiving a coronavirus vaccination first. This group includes the following:
People who are over 80
People who work in inpatient facilities for the care and supervision of elderly people and people in need of care
People in outpatient care services who work with people in need of care
Workers in the medical sector exposed to a high risk of infection – for example, in intensive care units or in emergency rooms
Those who care for, look after or treat people with a high risk of infection in medical facilities
How do I get an appointment for vaccination?
At the moment, only people from the highest priority group (detailed above) can get vaccinated. If you belong to this group, you should contact your local health authority if you are unsure how to make an appointment.
Most states offer two options: booking an appointment online or making an appointment over the phone. In Berlin, only people who have received an invitation letter from the Senate Department for Health can book an appointment.
Vaccinations are currently being carried out in special centres, and by mobile vaccination teams that visit nursing homes.
They are not yet possible in doctors' surgeries.
According to the government, information on the start of vaccinations for other groups will be provided in due course.
For a reminder of all the the priority groups, check out our story below.
READ MORE: EXPLAINED: How Germany will roll out Covid-19 vaccinations