Will a 30 km/h speed limit become the norm in German cities?
More than 380 cities and municipalities throughout Germany want to make it easier to establish 30-kilometre per-hour zones, but the federal government is reluctant to implement far-reaching changes.
When leaving a German motorway or highway to enter a city or town, you'll normally see a yellow place-name sign, that signals you should reduce your speed to 50 km/h - the standard speed limit for main roads in towns and cities. 
READ ALSO: Driving in Germany: Eight German road signs that confuse foreigners
But many municipalities now want more power to introduce a 30 km/h limit in certain areas, while the Federal Environment Agency recommends introducing 30 km/h as the standard speed in towns and cities throughout Germany.
The initiative "Liveable Cities", which was founded in July 2021 by the cities of Aachen, Augsburg, Freiburg, Hanover, Leipzig, Münster and Ulm, is lobbying the federal government to allow local authorities to decide for themselves when and where to impose which speeds.
Currently, Paragraph 45 of the Road Traffic Act - a federal law - stipulates that 30 km/h speed limits can only be imposed in areas where there is a clear danger, such as in front of old people's homes, daycare centres and schools. 
READ ALSO: Which German cities are the worst for traffic?
But this can result in a patchwork of speed restrictions which can be confusing for drivers. Freiburg's construction mayor Martin Haag told Taggesschau: "In Freiburg, we have a situation where the speed limit is 30 km/h from 7:00 am to 6:00 pm for 500 metres. Then a few metres further, from 10:00 pm to 6:00 am. That can't be in the interests of drivers".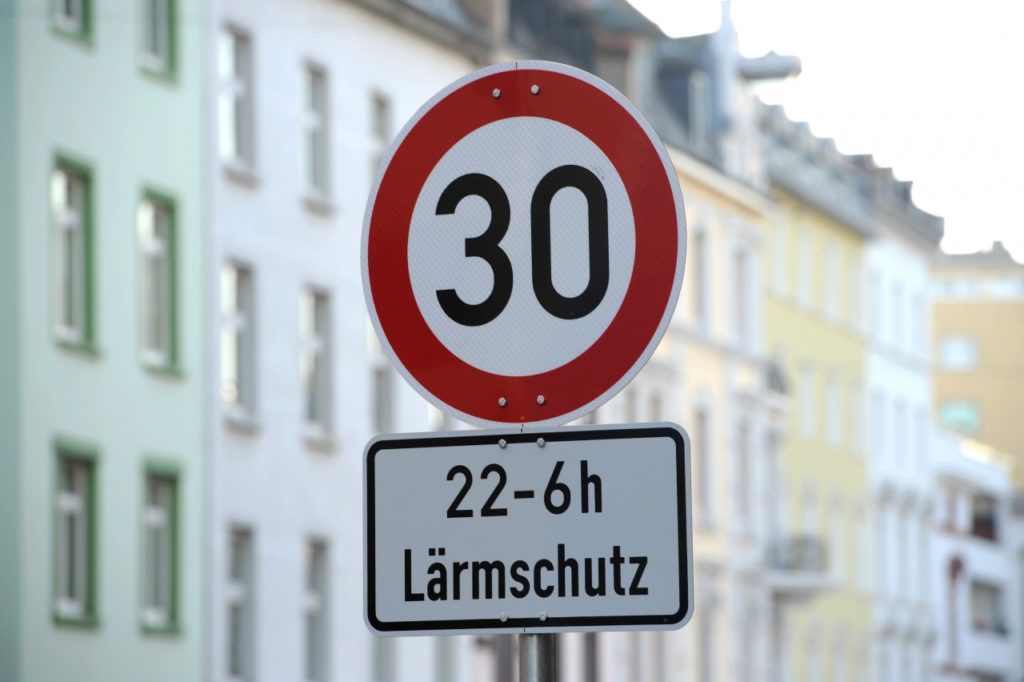 A traffic sign indicating a nighttime 30 km/h zone on Höhenstraße in Frankfurt am Main. Photo: picture alliance / dpa | Arne Dedert
"We want two changes. Once in the Road Traffic Act and in the Road Traffic Regulations," says Thomas Dienberg, mayor of Leipzig and spokesman for the initiative. He said that the main roads are the main focus of the Liveable Cities Initiative because these are also streets where people live and work. "On these roads, it is only possible to designate 30 km/h speed limits under high hurdles, and only in very limited sections", he said. 
The Federal Environment Agency wants to go even further, and introduce a 30 km/h as the standard speed in towns and cities throughout Germany as, according to their research, cutting the speed limit by 20 km/h would have a huge impact on noise pollution and improve traffic safety in inner cities.  
How likely is it that the law will change?
At the moment, it seems that the Federal Ministry of Transport is reluctant to push the initiative forward. 
"What has come from the Federal Ministry of Transport so far is very, very meagre," says Thomas Dienberg of "Liveable Cities".
In response to a question from Tagesschau, a spokesperson for the Transport Ministry said that there is a working group on the topic of adapting the Road Traffic Act and the Road Traffic Regulations to give states and municipalities more scope for decision-making, but that so far they are "not convinced" of comprehensive 30 km/h speed limits or speed restrictions on main roads.
READ ALSO: EXPLAINED: The fines drivers in Germany need to know about in winter
However, more than 380 cities and municipalities have now joined the initiative, and the number is constantly growing, which may eventually increase the pressure on the federal government to give more power to municipalities or to introduce blanket reductions to speed restrictions. 
See Also