How hard is the C1 language test for Germany's upcoming fast-track citizenship?
Having a C1 language certificate will be a future condition for obtaining fast-track citizenship under the government's recently published plans. The Local's Sarah Magill, who took the exam, breaks down how hard it really is and shares some tips on how to pass.
At the beginning of January, Germany's coalition government released its long-awaited draft law for reforming the path to German citizenship. 
Under the draft law, the 'standard' period of residence required for citizenship will be cut to five years from eight, while those who can show exceptional integration - either through achievements in work or education, volunteer work, or C1 German - will be able to naturalise after just three years instead of the current six for fast-track.
READ ALSO: KEY POINTS: What's in Germany's draft law on dual citizenship?
Previously, applicants for fast-track citizenship had to gain a B2 language level. Although the plans are not finalised, it appears that in applicants who go down the speedy citizenship process route will need a C1 level of German.
What is C1 level German?
Language level C1 is the second-highest level of language competency under the Common European Framework of References for Languages (CEFR) - a Europe-wide guideline for language skills ranging from A1 to C2.
In Germany, the C1 exam is the language level generally required to study in German at university and is also a prerequisite for working in certain professions in many states, such as for doctors.
According to the CEFR guidelines, to be at the C1 level, a language learner should be able to understand a wide range of demanding, longer clauses, recognise implicit meaning in texts, express ideas fluently and spontaneously, and be able to produce clear, well-structured, detailed text on complex subjects.
READ ALSO: Germany to require 'C1 language skills' for new fast-track citizenship
At first, this may sound like an intimidatingly high bar and, if you're like me, reading those requirements may induce you to slam your laptop shut and give up hope of ever gaining a C1 certificate.  But take heart. C1 doesn't require perfection and if you're already regularly using German in work and social contexts, with a bit of brushing up and some exam preparation, the test is far from impossible to pass.
What's involved in the exam?
It's fairly safe to assume that the required proof of C1 language proficiency for expedited citizenship will be the same as under the current rules – namely that you will need to pass an exam of a government-approved provider – usually from the telc or Goethe Institut examination boards.
READ ALSO: What we know so far about the planned language requirements for German citizenship
If you are taking the C1 exam for entry into university, you will usually need to take the specific C1 Hochschule exam and for certain professions – the C1 Beruf (career) or Medizin (medicine) exam. However, for citizenship, a standard C1 exam is likely to suffice.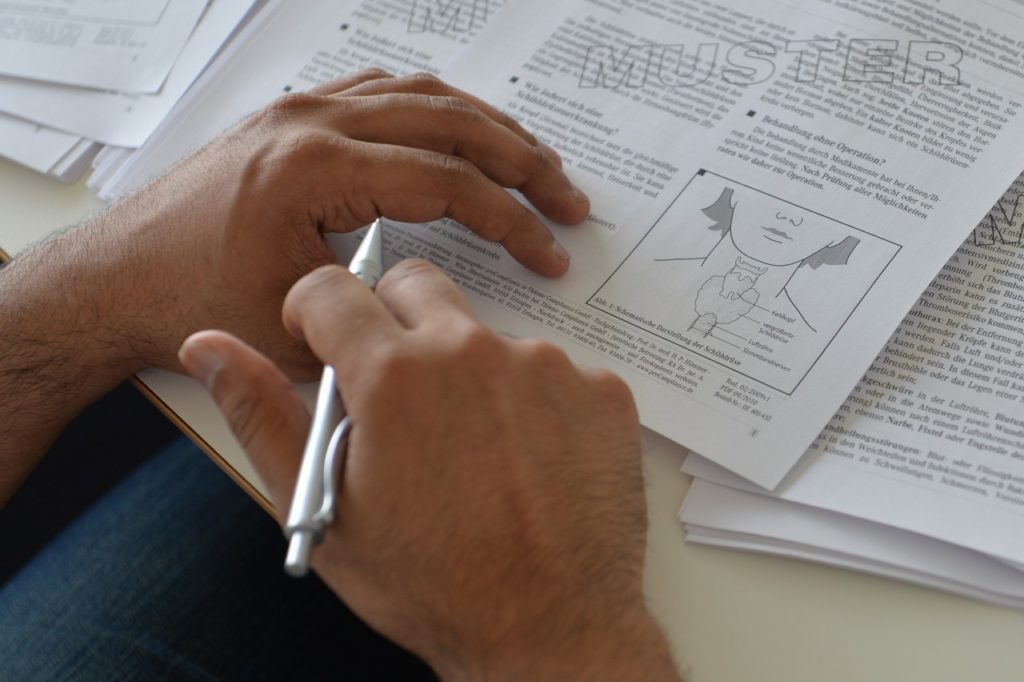 A patient communication test for foreign physicians to obtain a license to practice medicine in Germany. Photo: picture alliance / dpa | Marc Tirl
What's in the test?
Like all language proficiency exams, the C1 exam is made up of four sections to test each of the language competencies: speaking, listening, reading and writing.
The pass mark depends on the exam board, but is usually at around 60 percent for the reading, listening, and writing sections put together and 60 percent separately for the speaking test. This means that if you fail only the speaking part of the test, you can redo that on its own without having to resit the rest of the exam. 
READ ALSO: The best ways to improve your German for free
If you're not taking your test in connection with a language course, I highly recommend that you do some exam prep beforehand.
The Goethe Insitute and telc websites have free practice tests and many language schools - such as the one I used in Berlin - will offer a test preparation package when you book your test. Here, you will go through some example tests with a language tutor along with other people who will be sitting the same exam. 
I definitely recommend trying out some old exam papers to familiarise yourself with the layout of the test and to gauge how long you need to plan for each section. If you've not sat a written exam for a long time, working against the clock in exam conditions may come as a shock to the system, so it's definitely worth getting yourself familiar with the procedure.
Reading
The longest part of the exam is usually the Leseverstehen or reading comprehension, which lasts between 70 and 90 minutes depending on the exam board. In this part of the exam, you will have to read several texts and solve the corresponding tasks, including at least one gap-filling exercise, and you can guarantee there'll be some trick questions in there too. 
In my opinion, the trickiest part of the reading comprehension is a section called Sprachbausteine ("language elements") – a gap-fill exercise in which you have to choose from four very similar answers.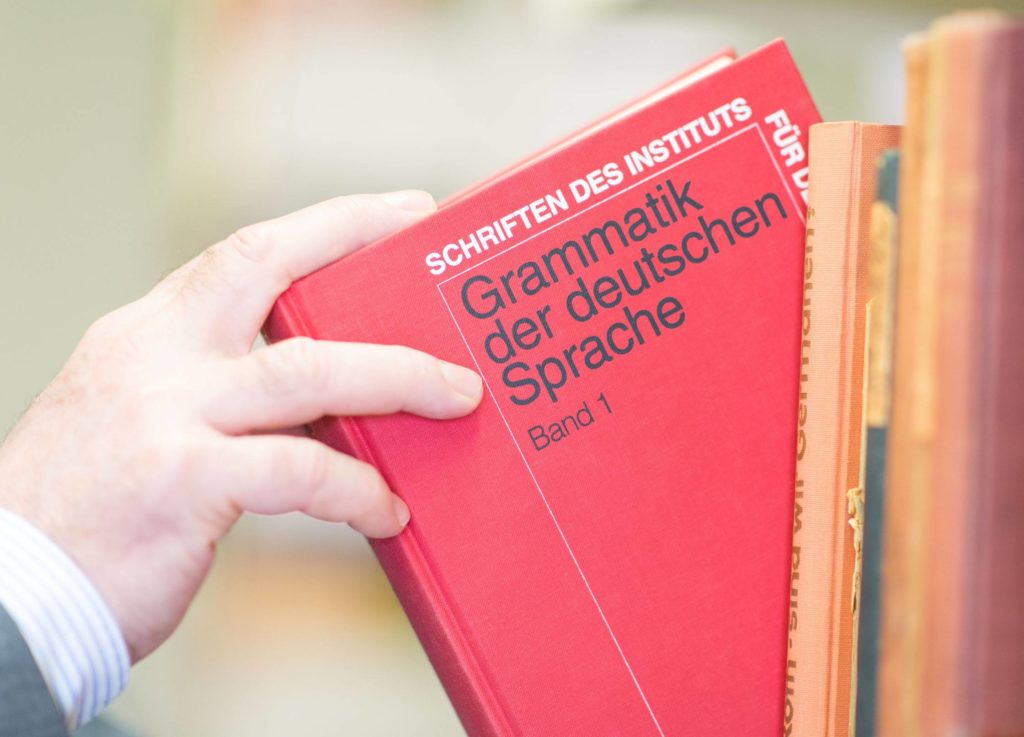 A book labelled "Grammar of the German Language" is taken from a bookshelf in the library of the Institute for the German Language (IDS) in Mannheim, Baden-Württemberg in 2014. Photo: picture alliance / dpa | Uwe Anspach
This section is really all about testing your grammar - and can mean having to identify the difference between tricky words such as dagegen, hingegen, jedoch and doch. In this example, the first three words are all adverbs which can only appear in the second clause of a sentence and they mean, "however", "against" and "on the other hand" respectively, while doch – though nearly identical to jedoch - means something completely different.
READ ALSO: Four common mistakes English speakers make when learning German
I highly recommend revising with some C1 grammar books and completing several practice Sprachbausteine tests to prepare for this.
Listening
In my telc C1 exam, after the reading test came a 20-minute break. If this is the case in your exam - don't make the same mistake I did and use the time to drink a double espresso – it's unlikely to help your nerves or concentration – which is absolutely crucial in the listening exam.
The listening part of the test lasts around 40 minutes, and you will hear between 2 and 4 recorded conversations about which you will have to answer questions. Crucial to bear in mind here is that you will only hear each recording once - so if you miss it, you'll have to make a best guess of the answer. 
Again, telc and the Goethe Institut have examples of listening exams on their websites which are great for practising.
Writing
For those who don't write much in German - or indeed at all - this will probably be the most daunting part of the test. I certainly got myself worked up about this after watching various online videos from C1 examiners who seemed to be demanding the skills of a German novelist to pass.
READ ALSO: The seven stages of learning German every foreigner goes through
But once I started practising writing the kind of longer texts that are required, I found out that there is a lot you can do to prepare for this part of the test.  
In the writing test, you will be given a few quotations on a specific subject - such as, for example, "Video games incite violence in young people" and you will need to write a short essay of around 200 words in response. You're expected to write a well-structured text, with an introduction, arguments for and against the opinion, and a conclusion. 
I found preparing and learning by heart a pool of set phrases -  such as Es wird häufig behauptet ("it's frequently claimed") and Es lässt sich nicht bestreiten ("there's no doubt that") immensely helpful for this exam. 
Speaking
Once you've been through the marathon ordeal of the reading, listening and writing exam, the speaking exam will seem like a breeze. In my case, the speaking exam took place later on the same day as the rest of the exam, but some people might sit this test on a separate day. 
Whenever you have it, the test will last around 20 minutes in total and will involve making a short presentation and having a discussion with a partner. 
You will be given a presentation topic and around 5 minutes to jot some notes down in private, before being called to the exam room where the examiner(s) will ask you questions and mark you as you give your presentation and have a discussion with your partner.
READ ALSO: 5 of the most cringeworthy mistakes I've made in German
If you get nervous speaking, this part of the test can be very daunting. But having a partner who is in the same boat to speak with definitely helps. Try to relax and not judge yourself too harshly in this part of the test - I came out of my speaking exam feeling like I had made a lot of stupid mistakes, but I still passed. 
So how hard is the C1 exam?
There's no doubt that the C1 exam is difficult, but it's certainly not impossible. 
I'm someone who still makes grammar mistakes more frequently than I'd like, sometimes uses the wrong words and can't always find the right vocabulary, but, thanks to some good preparation, I managed to pass. The key to success is definitely practising the tests, brushing up on grammar and listening to, reading and speaking as much German as you can in the weeks beforehand. 
Does the language certificate expire?
Goethe Institut and telc certificates for levels A1 to C2 are valid indefinitely. However, many institutions and employers require a certificate that is no older than two years. It's not yet clear how recent the C1 certificate for fast-track German citizenship will need to be.
Have you taken the German C1 exam? We'd love to hear how it went - write to us at [email protected]
See Also