Every household in Germany has to pay the broadcasting contribution fee – called the Rundfunkbeitrag – regardless of whether there is a radio, television, or computer in the home or not. 
Lindner said he saw large savings potentials among the state broadcasters, referring to the coverage in Germany of the Queen's funeral on Monday. 
"The fact that (German broadcasters) ARD, ZDF and Phoenix are broadcasting live and in parallel from the Queen's funeral from London, and are each in London with their own staff, vividly demonstrates that there is considerable potential for savings," he told the Neue Osnabrücker Zeitung.
READ ALSO: Do I have to pay Germany's Rundfunkbeitrag?
He also called for a freeze on future fee hikes.
As The Local reported, the tax went up in 2021 from €17.50 to the current €18.36. It can be paid by direct debit or by quarterly invoice and is the main source of income for public broadcasters in Germany. 
"Suspending fee increases relieves the burden on people at a time of rapidly rising prices," said Lindner.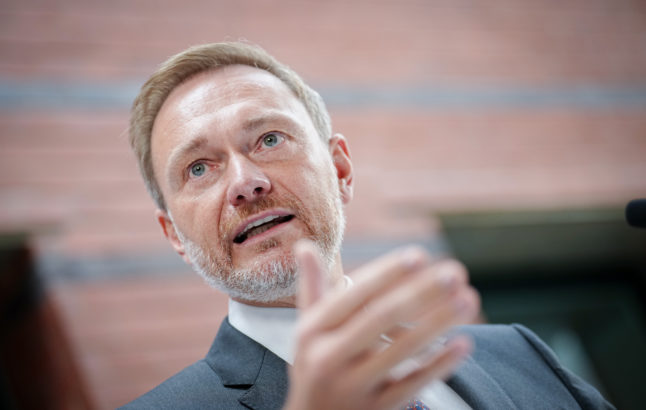 German Finance Minister Christian Lindner. Photo: picture alliance/dpa | Kay Nietfeld
Lindner also said it would serve as an incentive for broadcasters to become leaner and focus on their core mission. He added: "I'm sure that cooperation can save large sums of money without having a negative impact on programming."
A spokeswoman for NDR, the broadcaster responsible for ARD's reporting, told the Neue Osnabrücker Zeitung that the staff costs were comparatively low, but did not give details.
In total, ARD and ZDF sent just under 50 employees to London, including presenters, experts and production staff, the statement said. ZDF said it has been alternating other royal events with ARD by arrangement for several years, but the death of Elizabeth II was an exception. In future, broadcasters will return to the old practice. 
At the weekend, Lindner called on top staff at public broadcasters to cap their salaries, telling Bild am Sonntag that "no director should earn more than the chancellor".
READ ALSO: EXPLAINED: How to pay Germany's TV tax, or (legally) avoid it