Germany is not known for its culinary delicacy. Between the Berliner Currywurst and Bavarian Weißwurst, the culinary theme seems to be "quick, hearty and carnivorous". 
France, on the other hand, is still seen as a leading innovator in the cooking world. How did two neighbouring countries develop such different attitudes to food? And what happens in border counties, where they meet? 
This is the case in the Saarland, a German state that shares its entire southern and western borders with France. 
READ ALSO: Five maps that explain Saarland, Germany's 100-year-old state
Saarland used to be the home of iron and coal mining, and so much of its traditional cuisine developed out of the "Bergmannskost" (miner's diet). This meant substantial, high-calorie and affordable meals, largely based around potatoes. 
But because of the historical tug-of-war between the French and German borders, Saarland has experienced waves of French influence. Over time, this has created a fusion-culture that can be seen to this day: most of the population of Saarland is bilingual. 
The cuisine of Saarland has not remained untouched either, and many French dishes have found their way on traditional menus: from Schneckenpfanne (a dish of snails) to Flammkuchen (Tarte Flambé, a flat tart with onions and bacon).
Flammkuchen is a traditional dish of the historic regions of Alsace, Saarland, Baden and Pfalz at the French-German border region.
Here's the recipe if you want to give it a try! Let me know how it turns out. https://t.co/jh8JvqUU4b #frenchfood #germanfood #flammkuchen #lovefood pic.twitter.com/AMjDPmIGtI

— Becky Lewis (@DreamTravelForU) May 28, 2020
The French Influence
It is said that the proportion of Michelin chefs to inhabitants is larger in the Saarland than anywhere else in Germany. Restaurants like Landgenuss, owned by the hospitality family Hämmerle, offer a menu of traditional cuisine, and still boast the Michelin star. 
Many attribute this to the French influence. Even in traditional dishes, the Saarländers are not afraid to cook with wine or work with strong flavours and spices such as mustard. 
Lyoner, the strong-tasting French sausage, has developed into something of a speciality in Saarland. 
In fact, the favourite regional dish remains a Lyoner cooked on the Saarländer "Schwenkgrill" – a grill plate suspended over an open fire – with a side of potatoes and Sauerkraut.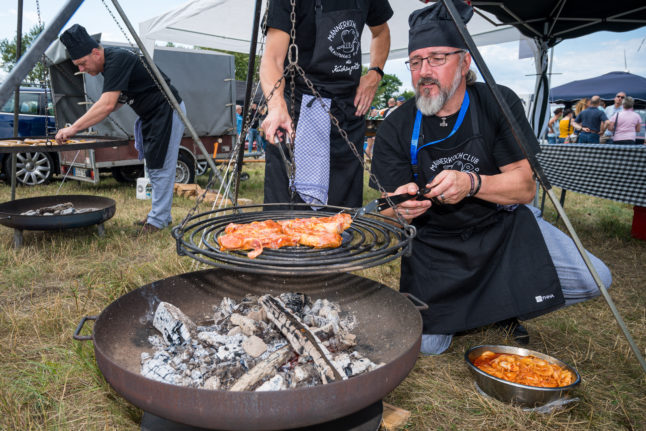 One man's weed, another's Salad 
Along with strong flavours, the Saarland adopts France's love of seasonality. Uniting this with the affordability of 'Bergsmannskost', one of the signature dishes of the Saarland is Löwenzahnsalat – Dandelion Salad. 
The art of this dish is finding particularly young and soft dandelion leaves, and combining them with a honey-vinegar dressing to balance out the bitter taste. 
So sieht Löwenzahnsalat mit Urkohl, Rotkohl, Karotte und essbaren Blüten mit Honig-Senf-Dressing aus.
Super lecker! pic.twitter.com/dIgIolvVVc

— Wild Woman (@Hexen_Lady) April 6, 2015
A German hero: The humble potato
However, no matter how much French influence skips across the border, one element of the Saarland cuisine remains distinctly German: potatoes are at the centre of everything. 
READ ALSO: Big birthday in a small state: Saarland celebrates 100-year-old history
Most of the traditional dishes are variations on the humble root vegetable. For example, there's "Dibbelabbes", a kind of German hash brown created from grated potato, dried meat, onions and parsley. 
The funky name comes from the dialect word for iron pan "Dibbe" and cloth or rag "Labbes". It's a typical comfort food associated with grannies throwing the ingredients into a big iron pot until they stick together like a kind of frayed potato-cloth. 
Another classic is "Gefillde". These are big, round potato dumplings filled with meat such as liver paté. They're usually served with a thick cream and bacon sauce with a side of Sauerkraut.