Are Germans really that pacifist anymore?
Germany has a reputation for being a country that eschews military force. But nearly a year after Russia invaded Ukraine—how true is it still? Polls this year reveal a country that's quickly changing its traditionally pacifist attitudes.
As Ukraine and Germany's NATO allies wait on Chancellor Olaf Scholz's decision about whether to send modern Leopard tanks to Ukraine, the German government has been accused of dragging its feet and wasting valuable time as more Ukrainians die in Russian attacks.
Some political observers have argued that Scholz is simply following the will of German voters, who tend to have strongly pacifist tendencies, and would prefer he stay cautious on delivering tanks.
But polls conducted over the last year show us a society that's quickly changing its opinions on military force, and on supporting Ukraine with weapons.
READ ALSO: Leopard 2: What is the German tank long sought by Ukraine?
One recent poll by public broadcaster ARD finds a fairly even split among German voters on whether to send Ukraine tanks, with slightly more in favour (46 percent), than against (43 percent).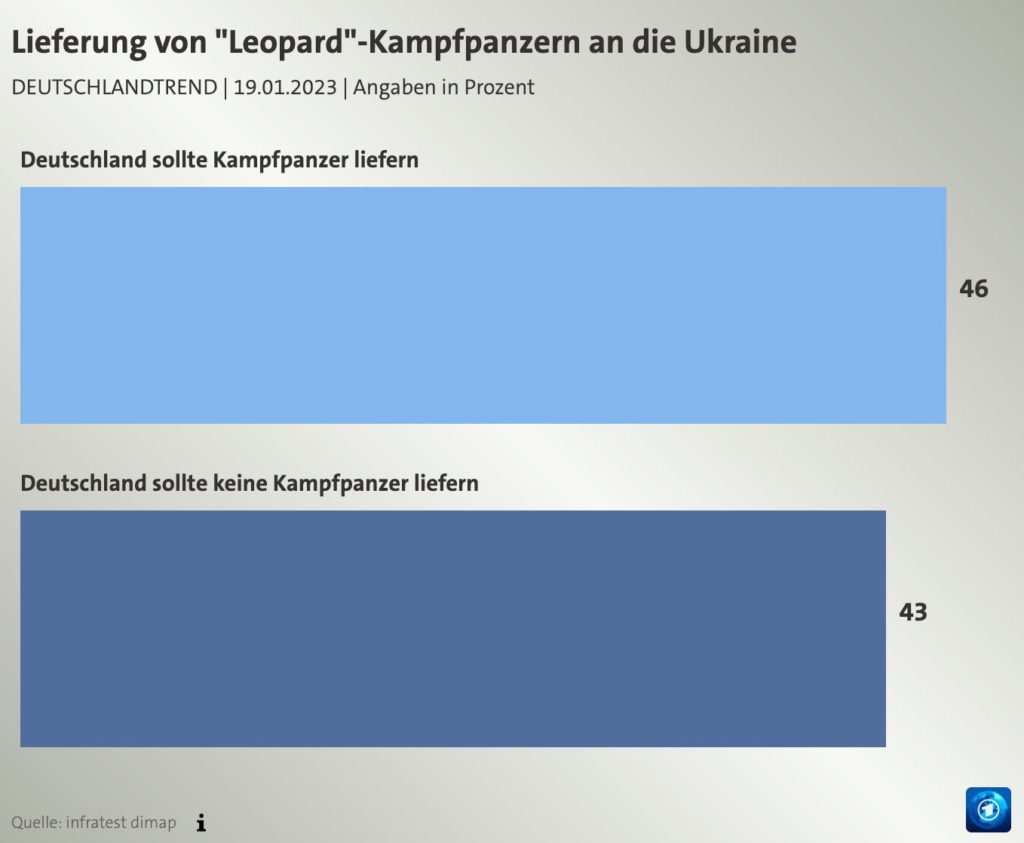 One poll from January 19th, 2023 asks whether Germany should deliver Leopard tanks to Ukraine. In a close vote, 46 percent say yes. Image: ARD Deutschlandtrend
To be sure, that signals that there's still a sizeable pacifist tendency among ordinary Germans. But only one year ago, just before Russia invaded Ukraine, 73 percent of Germans were against sending any weapons—of any kind—to Ukraine at all.
Things changed very quickly after the invasion, with 78 percent of Germans in one Forza poll at the time responding that sending weapons to Ukraine, particularly air defence, was the right thing to do.
Recent polls do show that Germans are a little more reluctant to send heavier weapons—like tanks. But to have a slight plurality in favour of sending heavy-duty tanks when so many were against sending any weapons at all just a year ago shows just how much the invasion of Ukraine has changed German society.
Even if it's still fair to say that Germany has a sizeable pacifist tendency, its recent public split over sending Ukraine tanks suggests it's getting harder to say that Germany is a pacifist society in general.
READ ALSO: 'Zeitenwende': How war in Ukraine sparked a historic shift in Germany
See Also