Three Kings Day: What you should know about Germany's public holiday in three states
January 6th marks Three Kings Day, a public holiday in Baden-Württemberg, Bavaria and Saxony-Anhalt. We look at how and why it's celebrated.
When does it take place?
"Tag der heiligen Drei Könige" (Epiphany or Three Kings Day) takes place on January 6th each year, and signifies the end of Christmas time. Normally Christmas markets have to close by this date, and similarly many people take down their festive decoration at this time.
READ ALSO: What and where are Germany's public holidays in 2023?
For students, this day also marks start of school and university, and for many Germans in general it marks the start of the new working year, since many take leave from their jobs during the holidays.
How is "Heilige Drei Könige" celebrated In Germany?
On this day, many people light their Christmas tree for the last time, and then pack away their Christmas decorations. The day is an official public holiday in Baden-Württemberg, Bavaria and Saxony-Anhalt, but is also celebrated in Christian and Catholic communities throughout the country. 
Also, lots of people, especially children, partake in "Sternsingen" (star singing).
They go from door-to-door, dressed as the three kings, singing songs and collecting money for charitable causes and people in need.
When at each front door, they write the date and "C+M+B" on that door. This abbreviation stands for "Christus Mansionem Benedicat" and means Christ bless the house (not Caspar, Melchior, and Balthasar, the names of the kings).
This holiday is not only viewed as a Christian celebration but also as a symbol for the beginning of a new year, with the coming of the wise men.
Meaning
"Tag der Heiligen Drei Könige" (Day of the Holy Three Kings) is known as Epiphany Day or simply Epiphany, but is often also referred to as "Dreikönigstag" (Three Kings Day), "Drei Könige" (Three Kings), or "Erscheinung des Herrn" (Appearance of the Lord).
How did this holiday originate?
Originally, this day was the feast "Epiphanias", which is Greek for appearance and revelation.
On this day people would celebrate the birth and divinity of Jesus, and the adoration of the "Weisen aus dem Morgenland" (Wise men of the orient).
Only beginning in the 4th century, this celebration was divided into two separate ones: On the December 25th the birth of Jesus (Christmas) is celebrated, and on January 6th the visit of the wise men from the orient, who came with gifts for the baby Jesus.
During this change, the celebration on the January 6th was renamed to its current name "Heiligen Drei Könige" (but sometimes still referred to as Epiphanias).
What is the story behind the three holy kings?
The three holy kings, or three wise men, stem from the religious story of them being the "Sterndeuter" (asterisks), who followed the star of Bethlehem to where they found the newborn, Jesus, in the stable.
They were the first pagans to recognise the divinity of Jesus, and, therefor, they kneeled before him and presented him with many precious gifts.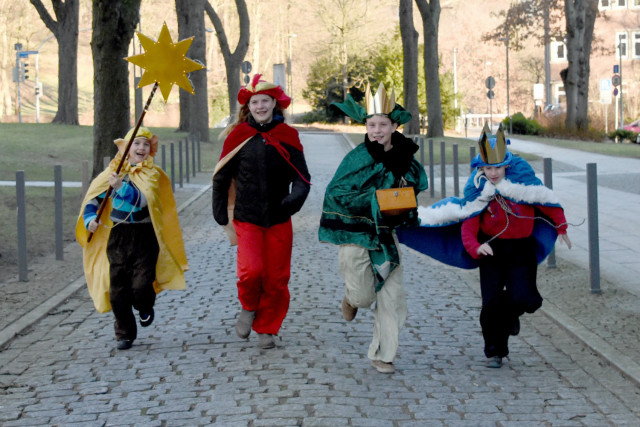 Children dressed as star singers in the northern German city of Kiel. Photo: DPA
How did they receive their names?
Presumably, there were three men named Caspar, Melchior and Balthasar.
The number of men is based on the fact that there were three gifts for Jesus: gold, frankincense and myrrh.
There are several varieties of names attributed to them, and stories on how they received their names.
Many believe that these men were originally named Appelius, Amerius and Damascus, all Hebrew names.
And since the 8th century they believe that they were called Caspar, Melchior and Balthasar because the names stem from the Mithras cult (A mystery cult centered around the Roman deity Mithras).
The men's names correspond to figures of this cult: Caspar corresponds to Cautes, Melchior to Mithras, and Balthasar to Cautopates.
However, some believe in a different origin.
In this belief, the names are symbolic and derive from other languages. The Persian name Caspar means treasurer, the Hebrew names Melchior and Balthasar translate to King of Light and God will help.
See Also