Exactly 10 years after the creation of the famed cryptocurrency Bitcoin, Berlin-based techies gathered for a unique science slam to share their latest work on blockchain technology.
Telekom Innovation Laboratories organized the world's first blockchain science slam – or Blockslam! – during the capital's Science Week, at hub:raum on 8th of November, 2018.
While most of the 70 attendees either worked with or around blockchain, journalists and science professionals could be found among the crowd too.
It was the job of nine slammers to simplify cutting edge research in blockchain to win their hearts – and the popular vote – at the event.
What is blockchain?
Blockchain was invented in 2008 by Satoshi Nakamoto. It served as a public record of all transactions made with a cryptocurrency called Bitcoin. These transactions were validated by a group of distributed computers rather than a central authority and the records stored in each one of them.
SEE ALSO: Are Berlin's bitcoin investors blinded by their enthusiasm?
How did that help? It made transactions far more secure. Each transaction in a blockchain made a reference to the transaction before it, creating an interminable link of "hash" tags.
Hacking into one computer was no longer enough to tweak the system, but required a majority of sentinel computers – which could be thousands in number – to be hacked.
Since 2008, blockchain technology has come to impact the world much beyond financial transactions. In fact, any exchange of information between two parties or handing over of an object from one person to another can be seen as a transaction. That opens up the doors to solving real life problems like data privacy and counterfeit drugs with blockchain.
Blockchain and social media
Some participants of Blockslam turned to the technology to decentralize social media as well.
"We thought about who would be the hardest person to explain this to," said slammer Kevin Tharayl from Bigchain DB. "Was it a grandma? Was it my dog? If we could make that person understand, then anyone in the world could understand [blockchain]."
Just at that moment Donald Trump's face popped up on the slideshow. Laughter erupted as Kevin, and co-slammer Ricardo Garcia, demonstrated to a fictitious Trump over the next ten minutes, how blockchain can decentralize his twitter account to make it more resilient and open to criticism. It came as no surprise when they bagged a unanimous win at the event.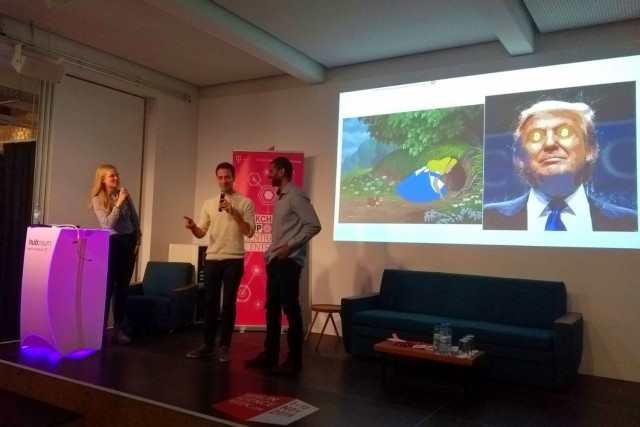 Winners Ricardo Garcia (l) and Kevin Tharayl playing the Trump card at Blockslam! in hub:raum, Berlin. Photo: Nehal Johri
Kai Wagner then brought up the question of 'self-sovereign identities' in the digital age. "Our digital lives are controlled by companies like Facebook," he said. "40 million websites [are] doing logins through it."
To bring back consent and control over our data, he is developing Jolocom, an open-source solution, that will store all data locally on your personal computer. With a Jolocom account, it will be possible to log into everything and its peer-to-peer system will ensure that no intermediaries are involved.  
Martin Westerkamp from Technische Universität Berlin is similarly getting rid of intermediaries in microblogging. He will add Tawki to a line of platforms like Twitter and Instagram that presently have too much control over the user's private data. For example, a photograph shared on Facebook also grants a sub-license to Facebook, he said, and an artist clearly doesn't want that. Martin himself abstains from social media but is excited to be using Tawki. It is finally a decentralized and transparent network where he feels comfortable. 
Tackling tough problems in Germany's health care
Besides social media, blockchain is being applied to address problems in the pharmaceutical industry. According to a 2016 report by Der Tagesspiegel, Germany had lost one billion Euros or 2.9% of its annual revenue to counterfeit drugs penetrating the market.
A recent incident in March this year concerned counterfeit batches of the medicine CellCept, which is commonly used to prevent rejection after organ transplants.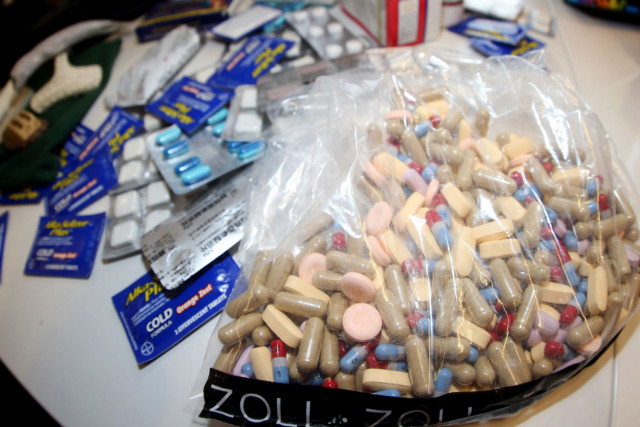 Counterfeit tablets confiscated by the Customs Investigation Office in Hamburg in 2014. Photo: DPA
But the passage of medicines from the manufacturer to wholesaler to warehouses and finally pharmacies is itself a blockchain. By tracking medicines as they pass through the supply chain, their safety for end users can be reassured.
There are many models for this, one of which involves printing a QR code on drugs. Artiona Bogo from SAP explains that a typical QR code (used, for instance, in FlixBus tickets) presently contains four pieces of information and by introducing a fifth element, the code will be able to hold a trace of its entire path along the drug supply chain. It will do so through the use of the hash, in this case being a link of references to its previous locations.
Such leading concepts and innovations are thriving in Berlin, a city of 300 startups (higher than any other city in Germany, according to the Deutscher Startup Monitor 2017).
All in all the world's first blockchain science slam was a grand success – and it wasn't just credited to the unlimited food and beer. From slammers narrating a fairytale of the DAO (a concept built on blockchain and hacked in 2016) to playing the Trump card, there was simply little else to miss.
Future blockslams can hope to attract more female slammers, who at this event were outnumbered by a 3:1 ratio. Among those present were some of the most insightful voices.
Andrea Bauer, a digital strategist, was a sole speaker to issue a fair warning about blockchain. "You need to know how to use it," she said. "Otherwise it's going to be dangerous for everyone, just like kryptonite."