KEY POINTS: What's in Germany's draft law on dual citizenship?
Germany's Interior Ministry has drafted a law that sets out easier routes to citizenship and allows dual nationality, including carve-outs on language tests. Here's what we know so far.
Almost a year and a half after the plans were first unveiled in their coalition pact, Germany's traffic-light government of the Social Democrats (SPD), Greens and Free Democrats (FDP) has outlined its vision for a "modern citizenship law".
A new draft law released by the Interior Ministry on Saturday envisions a simpler and speedier naturalisation process for immigrants. It foresees quicker routes to citizenship, exceptions to German language requirements, and the removal of other controversial clauses and conditions, such as the ban on dual nationality for non-EU citizens.
While many of the plans have been public knowledge for some time, the draft is the first comprehensive overview we have of the conditions foreigners may have to fulfil in order to become German in the future. There are also a few new clauses that could make life easier for certain migrant groups.
Though we could see some changes before the law is approved, here are the key changes to citizenship rules outlined in the draft. 
Permitting dual nationality
In a paradigm shift for non-EU migrants, the Interior Ministry wants to permit the holding of multiple nationalities, meaning people will no longer be forced to choose between German citizenship and their current one.
For many years, newly naturalised Germans from non-EU countries had to give up their existing passport(s). There were exceptions to the rules for refugees, people from countries that don't allow citizenship to be revoked, and people who could prove that they'd face economic or personal hardship as a result of giving up their nationality. 
READ ALSO: INTERVIEW: Germany on track to pass dual citizenship despite opposition
In general, however, most non-EU nationals were asked to choose between German citizenship and that of their home country. That's all set to change under the new law, with not just dual nationality, but "multiple nationalities" permitted. 
What's still unclear is whether people will be able to benefit from the dual nationality exception over multiple generations. The FDP in particular wants to prevent German citizenship being passed down through several generations and has argued that only the first two generations in a migrant family should profit from the new law. 
Reducing residency requirements
Another key change for foreigners is the amount of time someone has to have legally lived in Germany before being able to become German. Currently, people require at least eight continuous years of residency in Germany to apply for citizenship, though people who speak good German or who can prove "exceptional" integration can apply after six.
In the future, the 'standard' period of residence required for citizenship will be cut to five years. Meanwhile, people who can show exceptional integration - either through achievements in work or education, volunteering work or C1 German - can naturalise after just three years.
READ ALSO: Germany to require 'C1 language skills' for new fast-track citizenship
Carve-outs for language tests
In general, people need to prove lower-intermediate, or B1, German language skills in order to apply for citizenship. That won't change for most people under the new rules - but some groups of migrants will have an easier time.
For all applicants aged 67 or over, the language requirements will be simplified and there will be no requirement to take a citizenship test. This change is primarily intended to provide easier routes to citizenship for older people from the guest-worker generation, but will apply to everyone aged 67 or above.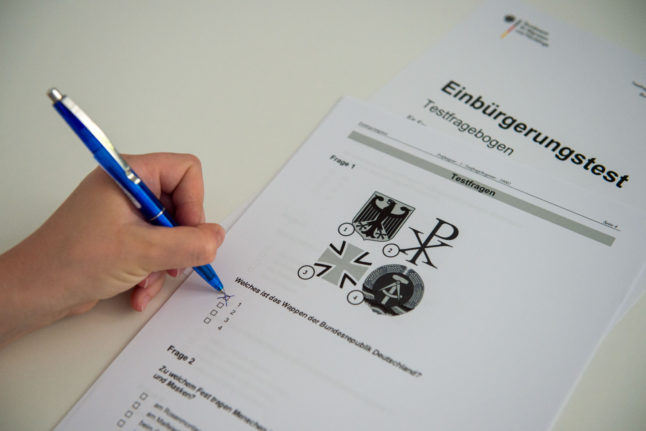 A woman fills in the German Citizenship Test in Munich, Bavaria. Photo: picture alliance/dpa | Lino Mirgeler
There will also be a hardship clause for people who face barriers to learning German, which could include caring for elderly relatives. For this group of people, simply being able to speak and understand German in daily life should be enough to be eligible for citizenship. 
Citizenship for children of migrants
The so-called "option obligation" for children of foreigners born in Germany, which has already been liberalised a fair bit in recent years, will be completely abolished under the ministry's plans. This means that as young adults, second-generation migrants will no longer have to choose between German citizenship and the citizenship of their parents.
There will also be changes to the automatic citizenship granted to the children of foreigners who are born in Germany. Currently, children are automatically German if their parents have lived in the country for at least eight years. This will be reduced to five. 
READ ALSO: Immigrant children who get German citizenship at birth 'do better in school'
"The considerable reduction of the duration of residence of one parent will increase the number of children of foreign parents who acquire German citizenship by birth in Germany," the draft states.
Ending controversial 'integration' clause
Since 2019, a notorious clause requiring "integration into German living conditions" has been contained in the country's citizenship law. 
The integration requirement was envisioned as a way to block citizenship for people who are culturally at odds with Germany, such as religious extremists or those who practice polygamy. However, opponents said the vague wording meant case workers at citizenship offices had free rein to discriminate against applicants. 
READ ALSO: Why are Germany's planned citizenship reforms coming under fire?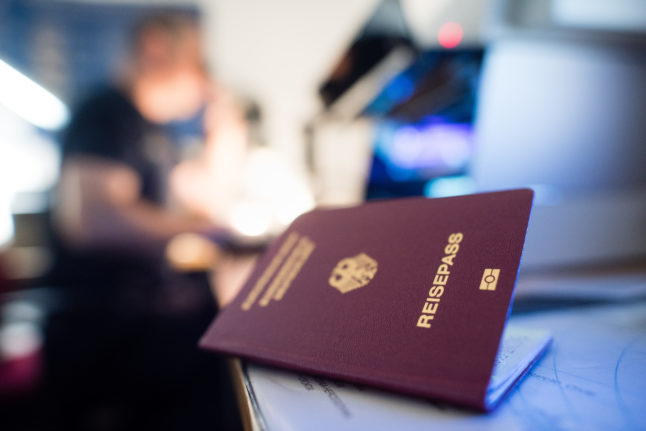 A German passport on a desk in the home. Photo: picture alliance/dpa | Matthias Balk
In the new law, this clause has been removed, though there will still be mechanisms to prevent certain people from naturalising as Germans. 
According to the draft, naturalisation is out of the question if "the foreigner is married to several spouses at the same time or if he or she shows by his or her behaviour that he or she does not accept the equal rights of men and women laid down in the Basic Law".
Why does the government want to change citizenship rules?
The changes to citizenship rules are part of a wider government project to facilitate and encourage migration to Germany. 
Germany faces a yawning skills gap and worker shortages across almost every sector, which has been dampening the country's economic growth. As masses of employees from the baby boomer generation retire, it is also trying to support an aging population with pensions and healthcare. 
The traffic-light coalition sees migrant workers as the key to solving both of these issues. In addition, the government believes that the granting of citizenship opens the way to more comprehensive participation and involvement in German society, which is beneficial both to people who naturalise and to society as a whole. 
READ ALSO: EXPLAINED: How faster naturalisation in Germany 'leads to better integration'
What are the next steps?
When new drafts laws are produced, they usually circulate among government departments and ministers for feedback and amendments. 
If changes are required, a new version of the draft is written up, which is then put to the cabinet for approval.
Once the law is passed by cabinet, it will head to the Bundestag to be voted on by parliamentarians. In some cases, laws are also subject to approval by the upper house - the Bundesrat - which is comprised of the governments of the federal states.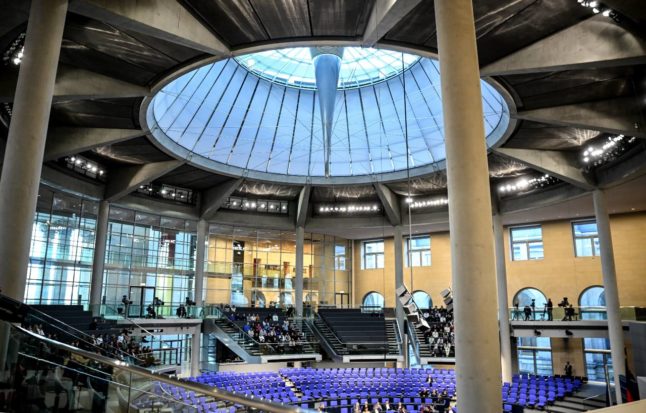 The interior of the Bundestag, where MPs debate new legislations. Photo: picture alliance/dpa | Britta Pedersen
However, there's some disagreement on whether this law will need to be put to a vote in the Bundesrat, as ministers have tried to draft it in such a way that it has little impact on the administration and finances of the federal states. 
READ ALSO: EXPLAINED: Could Germany's conservatives block dual citizenship?
If it does end up in the Bundesrat, there is likely to be pushback from the CDU/CSU parties, who have been fiercely critical of the plans. If this happens, the government may need to compromise to ensure the bill passes.
If it doesn't need to go to the Bundesrat, it is likely to pass in the Bundestag and enter into law by early summer. 
READ ALSO: 'Dangerous and wrong': Why German MPs are clashing over citizenship plans
See Also