What are the new international flight routes from Germany in 2023?
Looking to jet off from Germany this year? Here's a look at the destinations that airlines are offering in 2023 so you can plan your holidays.
Perhaps you're looking to fly to one of the classic holiday destinations in Spain, Italy or Greece. Or maybe you want to branch out and fly somewhere you've never been before. Whatever your plans, there is lots of choice coming up at German airports.
Here's a look at what some of the major airlines have on their 2023 schedule so far. 
Eurowings
German low-cost airline Eurowings plans to fly passengers to more destinations from Berlin's BER airport in 2023. With the start of the summer flight schedule at the end of March, the airline will take off from Berlin to Copenhagen, Helsinki, Porto, Rhodes and Málaga. But there will also be new flights to Nice, Zakynthos, Ibiza, Porto and Graz, according to the airline. Ultimately, Eurowings wants to offer around 30 destinations at BER - twice as many as before.
From mid-June, two new flight connections to Turkey (Kayseri and Adana) will be added at Cologne/Bonn Airport, and from the beginning of July at Hamburg Airport. From Stuttgart Airport, the airline will be taking off with passengers to Timisoara (Romania) from March 27th, and to Kütahya Zafer (Turkey) from July 19th.
Eurowings lists other new direct flights departing from airports abroad on its website.
READ ALSO: The new international train routes you can take from Germany this year
Condor
Airline Condor will be flying travellers in Germany to Iceland - Akureyri and Egilsstadir - from May 2023. Condor is also reintroducing Antalya as a newly launched destination in its summer flight schedule. There is also a new destination on the long-haul route: Edmonton in Canada.
According to the airline, however, the summer flight schedule has not yet been finalised.
You can check out Condor's provisional summer flight schedule for 2023 in this PDF file.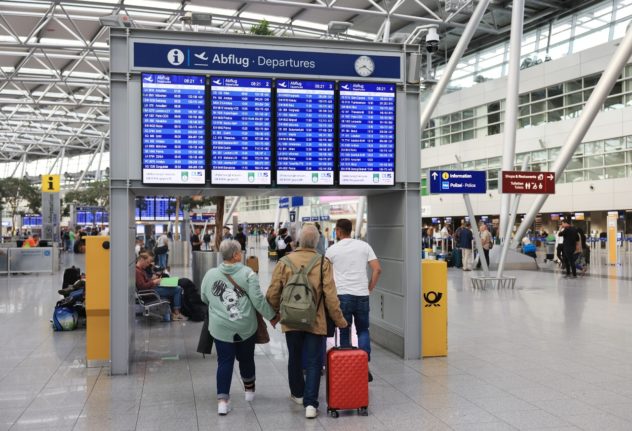 Passengers at Düsseldorf airport. Photo: picture alliance/dpa | Oliver Berg
Lufthansa
German airline giant Lufthansa is starting the summer of 2023 with over 5,200 connections to 205 destinations. New connections include flights from Frankfurt Airport to Belfast, London-Gatwick, Asturias (Spain), Skopje (Macedonia) and Biarritz (France).
From Munich Airport, there are summer flights planned to Asturias, Bordeaux and again to Rzeszów (Poland), Mexico City and Osaka in Japan.
"Lufthansa will be offering Osaka (Japan) from May 2nd with LH742 three times a week. From June 2nd, LH520 will take off three times a week to the Mexican capital," said the airline in December. 
Tuifly
Tuifly announced new flights for the 2023 summer schedule back in summer 2022. These include direct flights from Düsseldorf to Dakar, the capital of Senegal. The airline also plans to expand capacity to the Cape Verde Islands - Boa Vista and Sal.
Ryanair
The Irish low-cost airline will be flying from Memmingen Airport, also known as Allgäu Airport Memmingen, to Malta, Naples, Valencia and Corfu next summer. Twice a week, for instsance, there will be non-stop flights to Naples, Italy's third-largest city, from March 26th. For Malta and Valencia, connections will begin from March 27th. And every Friday from March 31st there will be a non-stop flight to Corfu. There are also flights from Memmingen to Krakow in Poland and Tuzla in Romania.
From Karlsruhe/Baden-Baden, Ryanair now flies to Malta as well as to Milan-Bergamo and from Weeze Airport in North Rhine-Westphalia to Asturias and Reus in Spain, Pula in Croatia and Milan in Italy.
Delta
US airline Delta is also offering a new route at two German airports. From March 27th, the airline will take off four times a week from Stuttgart to Atlanta. From Düsseldorf, the airline will fly three times a week to the capital of the US state of Georgia from May 10th.
See Also