What happened?
We've all been there. It's very easy to pronounce a foreign word the wrong way, only for it to turn into something hilarious. 
That's what happened to Bavarian state premier Markus Söder at the weekend during the Conservative party conference when he slammed the planned legalisation of cannabis by Germany's coalition government, made up of the Social Democrats, Greens and FDP. 
During his speech, he wanted to emphasise that legalising one drug could lead to harder drugs becoming more accepted, such as crystal meth. However, he did not pronounce the English "th" correctly and instead said "crystal mett".
This reminded lots of people in Germany – including German Health Minister Karl Lauterbach – of the chopped raw meat – Mett – popular in some regions.
***EILMELDUNG VOM CDU-PARTEITAG***Markus Söder fordert Legalisierung von "Crystal Mett"! pic.twitter.com/B7GoHm7eCX

— Lutz van der Horst (@LutzvanderHorst) September 10, 2022
Health Minister Karl Lauterbach tweeted: "Despite this scathing criticism from Markus Söder, (that) the legalisation of cannabis promotes Chrystal-Mett (sic) consumption, we have no hesitation. At least vegetarians remain safe."
What is Mett anyway?
Mett is minced raw pork and is a fairly popular food in Germany – at least for meat eaters. It's combined with salt and pepper, and sometimes garlic or onion. 
When it's brought out on a plate, you might think that it's ready to be fried up and turned into hamburgers. But that's not what usually happens. The meat is eaten absolutely raw. 
During a buffet it might be shaped into a big pink mound. But – alarmingly for foreigners – it is often made into a hedgehog which is known as a Mettigel or sometimes Hackepeterigel or Hackepeterschwein.
Germans normally eat it on a bread roll (Mettbrötchen) or with sliced bread, as well as salad. In some parts of Southern Germany Mett is served on a Lye roll, and is known as a Mettstange.
It can also be fashioned into other shapes or letters. The far-right Alternative for Germany (AfD) political party made a huge plate of it with their initials on top at the Berlin state election in 2016.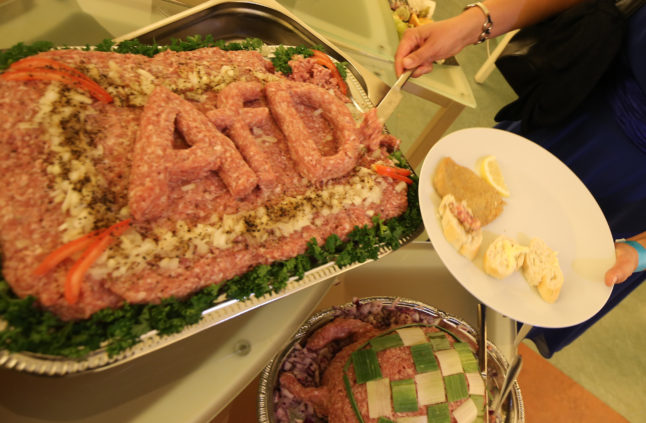 The Alternative for Germany (AfD) election party in Berlin on September 18th, 2016. Photo: picture alliance / dpa | Wolfgang Kumm
The name of the food is said to come from the Low German mett, meaning "chopped minced pork without bacon", or from the Old Saxon meti for "food". It is also known as Hackepeter in some regions. 
Ok! Is Germany legalising any drugs?
The German coalition government plans to allow the controlled distribution of cannabis among adults, although we don't know when this will happen.
Politicians have said the laws in Germany could be similar to marijuana legalisation in Canada. Cannabis could then be regulated and taxed in Germany, with over €5 billion a year in potential tax revenues.
However, there may be some hurdles. On Monday, a legal analysis by the German parliament's research service warned that a move to legalise cannabis would go against European regulations. 
READ ALSO: