The German Weather Service (DWD) said temperatures could reach 36C on Monday. 
In the morning, the DWD issued an extreme heat warning for eastern regions, as shown below in the map.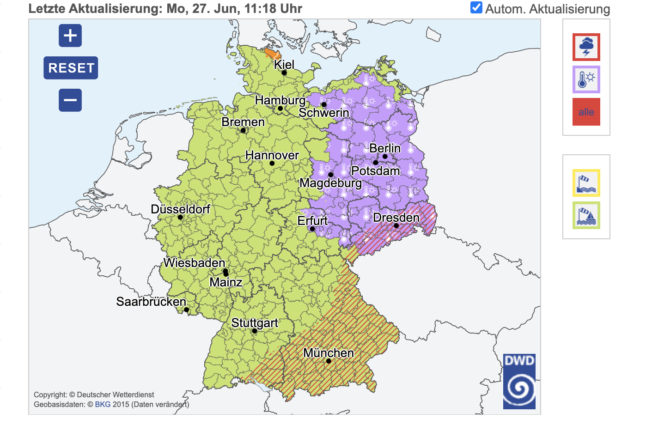 Photo: German Weather Service (DWD)
Forecasters said later on Monday, the south and east of the country would be hit by thunderstorms as well as large hailstones, strong winds and heavy rain.
READ ALSO: Germany sees record temperatures
In the north, west and centre of Germany, forecasters predicted clouds and some showers. Over the course of Monday, heavy thunderstorms with heavy rain, hailstones and strong winds are also possible in the north.
… und passend zum Bericht des ZDF. Auch heute für viele Regionen in Ostdeutschland #Hitzewarnungen des DWD (Abbildung #Warnwetter-App). Sie können Hitzewarnungen für Ihr Bundesland/Ihren Landkreis auch kostenfrei abonnieren: https://t.co/hbGpFOTq4j /kis pic.twitter.com/Ln0z3K6fDU

— DWD (@DWD_presse) June 27, 2022
"Thunderstorms have occurred in the past few days and will continue in the coming days, as the established weather situation will remain virtually unchanged," said a spokesperson from the DWD. 
However, the large temperature differences are striking: in the west of Germany, the mercury will only reach just above 20C in places.
Overnight to Tuesday, the DWD predicts thunderstorms – some of them heavy – from the Baltic Sea to the Alps, and later there is set to be more showers. It could still reach 28C in some places, especially in the east.
The DWD said: "The risk of thunderstorms will remain in the southern half of the country, while the northern half will calm down after the last thunderstorms have moved to Poland.
"This will change again on Wednesday night, when showers and thunderstorms, some of them thundery, as well as heavy rain will make their way north. On Wednesday, it will be quite unsettled with muggy temperatures almost all over the country."
Forecasters said the weather will remain changeable for the rest of the week, but it should become more settled from next weekend.