How Germany's property boom could be slowing down
Prices continue to rise steeply in the German property sector - but experts are seeing signs of a trend reversal.
What's going on? 
The Federal Statistics Office has just released its latest figures on property prices - and let's just say it's not great news for would-be buyers. 
In the first quarter of 2022 - from January to March - house prices shot up by an average of 12 percent compared to the previous year. It was the fourth time in a row that properties had gone up in value by more than ten percent in the space of a year. If these latest figures are anything to go by, Germany's property boom is still in full swing.
Nevertheless, there are few things about the property market in the Bundesrepublik that are giving experts pause for thought. 
The first is the fact that, from quarter to quarter, property prices don't seem to be rising as rapidly as they were last year.
READ ALSO: How soaring German property prices are out of reach for buyers
In fact, from the fourth quarter of 2021 (September to December) to the first quarter of 2022, the cost of buying a flat or a detached and semi-detached house only went up by around 0.8 percent. 
In the previous two quarters, prices had risen by 3.1 percent and 4.1 percent respectively.
"This indicates a slight weakening of the dynamics," the Statistics Office said. 
The second issue is that, with interest rates on the up, demand has all but collapsed. The third issue is the concerns of the Bundesbank that property prices could well be over-inflated. 
Does that mean people aren't buying property right now?
Kind of. In any case, far fewer people were seeking out places to buy in the first few months of 2022 than they were throughout 2021.
According to the online property portal Immoscout24, the demand for properties for sale in the first quarter of 2022 dropped by 17 percent within one year.
Adverts for residential properties are staying up for far longer than they used to, and sellers are having an increasingly tough time finding buyers.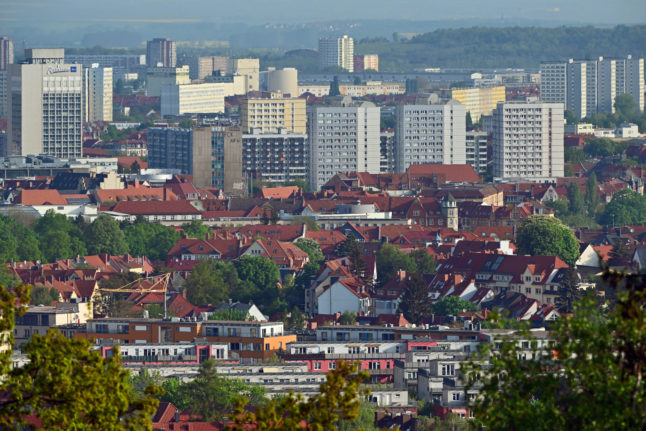 High-rise flats and older buildings make up the Erfurt skyline. Photo: picture alliance/dpa | Martin Schutt
Instead, it seems like Germans are returning to their age-old love affair with renting rather than buying. This could partly be to do with the fact that interest rates look set to rise over the coming years, making cheap mortgage deals increasingly hard to come by. 
"These developments could have a dampening effect on price trends in the medium term," said ImmoScout24 managing director Gesa Crockford. This could offset the slight uptick in interest rates.
READ ALSO:
So what's the outlook? 
Not all too rosy, unfortunately. Though prices could continue to rise in the medium term, some experts believe that the property boom will slow down after a decade or so. 
This is partly due to stuttering construction rates: at the moment, the construction industry is struggling against some serious headwinds, from ultra expensive building materials to endless supply bottlenecks. 
Germany's Central Bank (the Bundesbank) has been warning for some time that property prices are inflated beyond their actual value.
In cities in particular, prices are between 15 and 30 percent above a level that can be justified by longer-term economic and demographic factors, the Bundesbank stressed in February.
This trend was amplified by the Covid pandemic, which saw people increasingly seeking living space outside of the cities where supply is scarce. 
Experts from German bank LBBW also say they expect a price correction if interest rates continue to rise strongly and the economy fails to recover. 
In this scenario, LBBW believes that price declines of 20 to 25 percent are possible.
Of course, this may not apply to all regions of the country equally. There tends to be big differences in price trends, for example, between the former East and West of Germany. 
One other area that's still going strong is the buy-to-let market. While demand for homes for personal use is slipping, it seems there's still a big appetite for so-called "capital investments" that are occupied by renters.
READ ALSO: EXPLAINED: The German property tax declaration owners need to know about
See Also