'Fantastic': Your verdict on Germany's €9 transport ticket
Germany is set to bring in a heavily reduced public transport ticket for three months this summer. Here's what our readers think about it.
We released a survey asking how many of you would use the €9 monthly ticket, being brought in by the German government for the months of June, July and August. The ticket will be valid on all local and regional transport across Germany - but not on long-distance services.
Respondents came from all over the country in almost all of Germany's 16 states. 
And nearly all of our readers - 95.4 percent - said they planned to get the ticket. 
Just 1.1 percent of respondents said they would not use the offer, while 3.4 percent answered 'maybe'.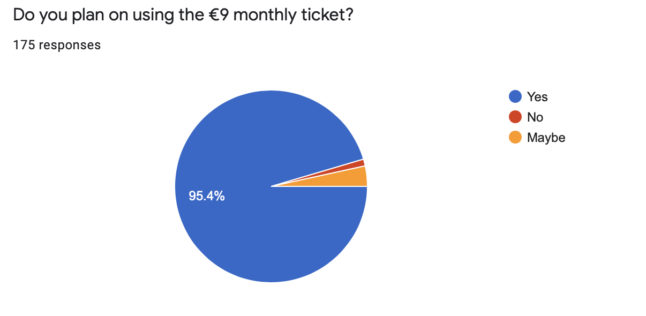 Source: The Local
We also asked how many of you already have a subscription ticket with your local transport provider. Just over half - 52.6 percent - said they don't have an Abo, while 34.9 percent are already subscribers.  
People with a subscription receive the discount as part of the €9 ticket offer. 
READ ALSO: How many people will use the €9 ticket?
Source: The Local
The ticket is part of the German government's energy relief package aimed at easing the financial burden on people. Politicians also see it as a trial for the future as the country tries to move towards climate-friendly policies. 
READ ALSO: When will Germany's fuel tax cut come into force?
When we asked whether you think reduced price public transport this summer is a good idea, the vast majority of respondents - 86.9 percent - said 'yes'. Just over 7.4 percent said they weren't sure if it was a good idea, and just 1.1 percent said it wasn't a good policy. 

Source: The Local
A snap poll on our Twitter page earlier this week also found that most people - 86.5 percent - planned to use the ticket. 
https://twitter.com/TheLocalGermany/status/1526588887518560261?s=20&t=_GqJYDLeezQUqiw8KAnmMA
'Why would anyone not use it?'
We also asked readers to share their views on what they thought about the ticket.
On The Local Germany's Facebook page, Scott Widenhouse said it was "absolutely" a good idea. "A day pass from Munich airport is €13 approx, (in) Berlin - one ride is €3."
Kat Thomas said: "I am so excited to get one for me and each of my kids. We rely super heavily on public transportation. This will be fantastic!"
READ ALSO: How to get a hold of the €9 ticket in Berlin
Sue Guinane said: "Why would anyone not use it? It is cheaper than two regular daily tickets in Munich, so great savings."
Others were not completely on board.
Of the comments on our survey, one respondent suggested that the ticket should be pricier in order to make it more sustainable. Another reader said it was going to be a "disaster" because travel providers would likely hike up prices after three months. 
On Facebook, Annmarie Wagner Schultz said: "It doesn't help my son who uses the train and his bike to get to work."
Tina Wetzel said she didn't want to take advantage of the offer because transport will be "overcrowded", and in the summer months, passengers will also have to deal with no air conditioning on trains and buses. 
"My nose prefers not to smell any of that," she said on Facebook.
Others said it might come in handy.
Jeffrey Carson, in Neukirchen in Hesse, said: "Sounds a good idea but I use my car for local journeys and the new ticket does not include long distance trains which are the only trains I use. I suppose if I visit Munich it will be good to get the €9 ticket for day trips from there."
READ ALSO: How to explore Germany by train with the €9 ticket
See Also