Let's face it, it's been a pretty disruptive two years. The coronavirus pandemic has really forced people to spend a lot of time reflecting on themselves. It's only natural to want to try something different and undertake new journeys in life. Why not then consider a completely new career path – something challenging, rewarding and most of all, different. 
Together with after-school drama programme, Stagecoach Performing Arts, the UK's largest network of performing arts schools for children and teens aged 4-18 years old, we look at how to get up off the couch and discover a new career path that speaks to you. We also have a quiz to help you decide what your working type is!
What is Stagecoach? Learn more about the programme and the opportunities it presents
Think outside the box 
To be blunt, you'll never make a significant career change if you don't consider options that lie outside the realm of your daily experience. If you only consider your current industry or field of work, you'll limit yourself to a specific range of roles. Although where you find yourself now may hold a degree of security, there are many other jobs and careers that can afford you the same kind of stability. 
Stagecoach franchise owner Sarah Martin was someone who decided to venture outside of her comfort zone. She states: "I studied dance as an extracurricular activity for most of my time at school. I did my exams and the training but never really took it any further than that!
"Throughout my career, I worked in care, and then for a cotton nappy company, which is where I met my husband. It was around this time that I decided I wanted to commit my future to something I was truly passionate about."
"It really did all fall into place for me at Stagecoach Performing Arts. From the initial opportunities in teaching to today, I've always been so behind the brand and strongly believe in the ethos. Since I've been a part of the Stagecoach network, I've felt nothing but inspired to keep moving forward with the brand, lead my own team and become autonomous in my work while having a family."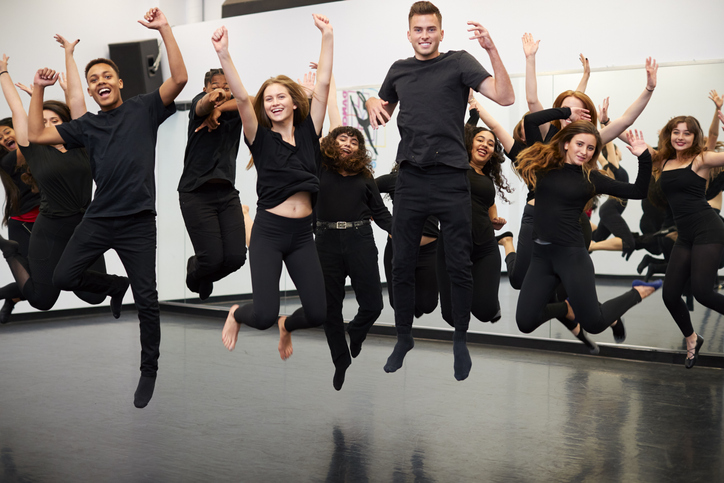 Ready to change lives? Become a Stagecoach franchise owner and take a leading role! Photo: Getty Images
Pay attention to those around you
Any business owner will tell you that identifying and filling the needs of the customer base is integral to success. Therefore, if you're looking to make a transition into a different career, observe your surroundings and the local community – is there something that people need that they're not being provided with? 
Sit down with friends and ask them what they wish they could access, or use. Talking about their kids, for example, can be an endless source of ideas. 
Follow your passions
YOLO, as the kids say – 'You Only Live Once'. If you've got one life to live, why spend it doing something that doesn't excite or move you? Do something that you are passionate about, and you will find that career growth and skill development comes. Even paperwork gets done a little easier when it's in the service of something you really care about. 
Another Stagecoach franchise owner, Hannah James says of her journey towards running a successful Stagecoach school: "I fell into higher education. I taught dance A-Levels at Stourbridge College for six years, all whilst still teaching at Stagecoach and running my dance school. I've always had a tie to Stagecoach. I knew in my heart I would end up back there full time one day – it was just a matter of time.
"My plan for the next year is to invest in expanding the reach of my school and continue to offer my students the incredible opportunities I had access to as a Stagecoach student. For me, that's the best part about doing what I do – inspiring the next generation."
Talk to those who've been there 
Don't make the leap alone – if you're considering a change of career, make sure that you spend time speaking with those who've made a transition into a new career. If you can, find someone who can mentor you, answer your questions and guide you around the obstacles that can arise with a significant career change. 
Both Sarah Martin and Hannah James stress the importance of being mentored in their decision to take on new careers as Stagecoach franchise owners. 
Says Sarah: "The training was great. Mine was back with the original owners and they gave me the foundations. But you learn on the job and, naturally, make mistakes – but that's all a part of growing as a business owner. Having other franchisees' support has been invaluable to the success of my business. Being able to ask questions and having resources within a shared network has been key."
As Hannah tells us: "I went into the training very confident and the support from head office was great. I felt like part of a much bigger picture, and it prepared me for everything that was to come. It was the biggest learning curve I've ever had."
Find out how Stagecoach can help you make a fully-supported, exciting career change in 2022
A unique opportunity
If it is time for a career change and you're looking for something new, you might want to consider becoming a Stagecoach franchise owner.
Stagecoach is the biggest performing arts program in the UK, and has been training children in dance, drama and song for over thirty years across their international network of franchise schools. They have now expanded to eight countries. Now, opportunities are opening up in Australia, Canada and Germany.
As part of the Stagecoach team, you will also be able to grow personally and professionally in the process, learning to lead teams and manage people. New franchisees are given a comprehensive grounding in business skills and managing people as part of their training, and shadow successful franchisees throughout the Stagecoach network. 
Best of all, you'll be working in a field where where you can make the difference to your local community and teach your students to have Creative Courage for Life. 
2022 is the perfect time to make a change – why not see how becoming a Stagecoach franchisee can help make that happen?