OPINION: How the Covid-19 vaccine fiasco exposes the myth of German efficiency
To the world, Germany is lauded for its perceived ability to get things done. But those who live here see a more complicated relationship with efficiency. The bungled vaccine rollout shines a light on these issues, writes James Jackson.
Made in Germany. It's not just a slogan- the BioNTech/Pfizer vaccine was literally invented, developed and manufactured in Germany. So why is the supposedly efficient Germany vaccinating much slower than many other countries?
Although national politicians have been keen to blame the EU, that doesn't explain why Germany hasn't been able to give out the vaccines it actually received. The real answer is something foreigners in Germany will be familiar with: German inefficiency.
New arrivals are prone to gripe about a stubborn refusal to do things online, a largely cash-based society where you may have to walk miles for an ATM, taxes and official documents sent via postal service - or even fax.
Plus there's a healthcare system that could by seen by some as a sick joke: I (and others I've spoken to) have had to deal with judgemental doctors who often prescribe you questionable homeopathic remedies. Don't even get me started on massively delayed projects like the Berlin-Brandenburg airport.
READ ALSO: The real story behind BER airport's nine year delay
Everywhere you look in Germany there seems to be waste: wasted paper from all the letters, wasted resources by having different health insurance companies offering the same product (or so many public broadcasters repeating the same news), wasted time from outdated workflows, software, and procedures. I know this from experience: in my first job in Germany they cancelled the newsletter I was hired to work on, leaving me with a salary but nothing to do. 
But the view from the rest of the world is almost the complete opposite.  Germany efficiency is so well-known that the efficient, robotic German is a well-worn joke. How many Germans does it take to change a lightbulb? One. German culture is punctual and professional, rarely chatting at work, and woe betide you if you try and book a train less than a week in advance. Even the beloved techno music is straight to the point and mechanical.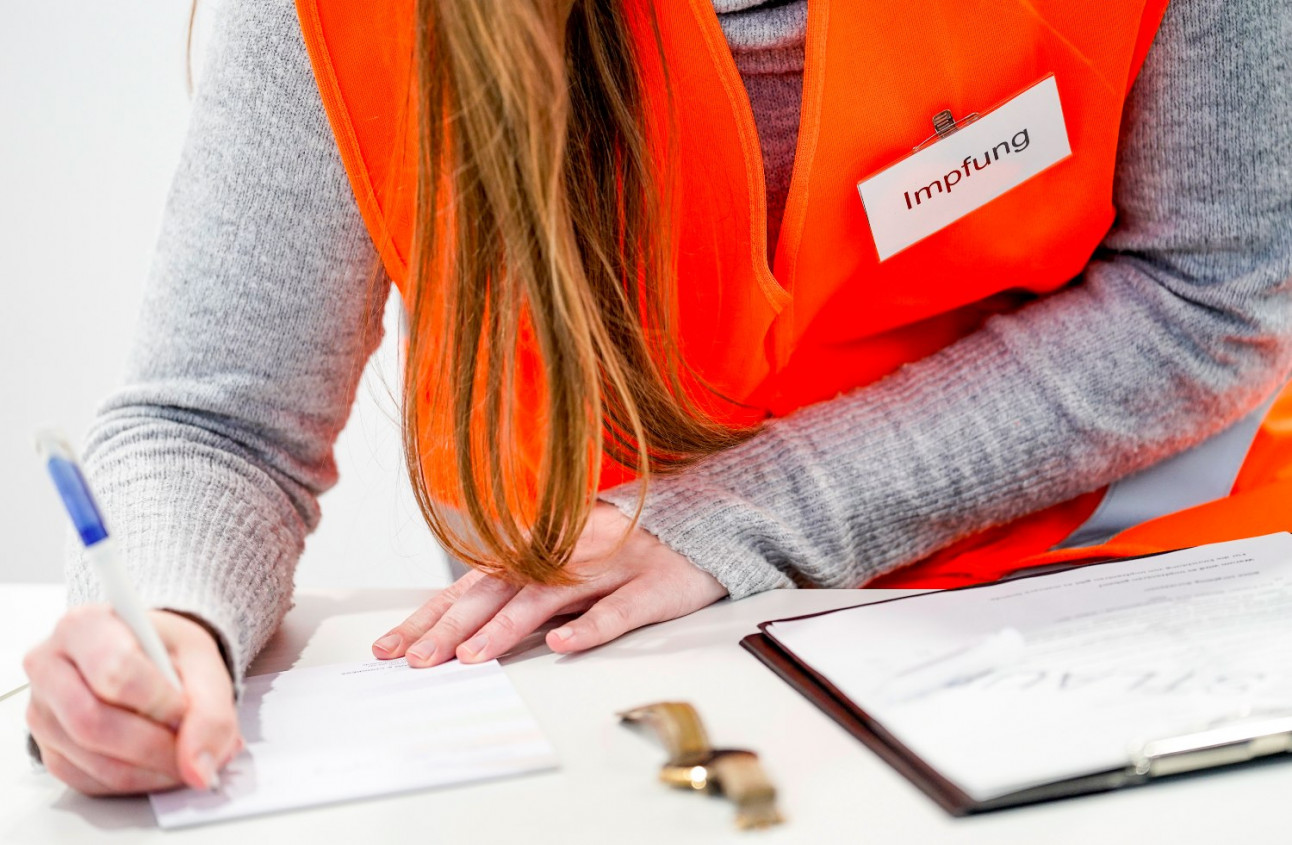 A vaccination centre worker in Husum in Schleswig-Holstein doing paperwork. Photo: DPA
Will the real Germany please stand up?
So which is the real Germany, a well-oiled machine or a slow bureaucratic nightmare? 
It's indisputable that some sectors of Germany, like manufacturing and technology, work incredibly well. Not just BioNTech but other well-known companies like VW, Siemens and Audi show that Made in Germany is still a valuable brand, known for making high-quality and reliable products. And alongside these there is the so-called backbone of the German economy: the Mittelstand, making highly specialized products like washing machine parts or organs. 
But when it comes to the service industry or innovation, Germany is severely lacking. A rigid following of the rules might work well for engineering cars, but when you bring people into the equation, the equation doesn't always add up. This will be familiar with anyone who has had to deal with German Beamte (civil servants). If you dare to forget one particular stamp or book something wrong in their byzantine appointment system it's "computer says Nein," leaving you to come back and do it all over again.
READ ALSO: 12 mistakes foreigners make when moving to Germany
Sadly, this inflexible mentality seems to have hampered the vaccine rollout too. While Germany and other countries decided to go through all the proper EU bureaucratic procedures to approve vaccines, the UK appreciated that lives are saved by starting vaccination as early as possible and went for an emergency approval. And let's be honest, if this isn't an emergency, I really can't imagine what is. 
It might be the most German thing ever that 680,000 vaccines are sitting around unused but people who want them can't just sign up to get them cause tHaTs nOt hOw tHiNgS aRe dOnE https://t.co/W5kb6YwhpH

— Elizabeth Schumacher (@ElizSchumacher) February 22, 2021
The UK's early approval was followed by a concerted, if unorthodox, national effort to recruit untrained volunteers to administer vaccinations, which has left it miles ahead of Germany on vaccinations.
German security expert Marcel Dirsus reacted with this tweet: "If a German politician proposed training flight attendants and retired bank tellers to administer vaccines he or she would be laughed out of the room."
He went on to say: "As a culture we've become so obsessed with rules and regulations that we can be blind to pragmatic solutions even if they could produce vastly better outcomes. It's sad. We could be doing so much better if we were a little more flexible"
As a culture we've become so obsessed with rules and regulations that we can be blind to pragmatic solutions even if they could produce vastly better outcomes. It's sad. We could be doing so much better if we were a little more flexible

— Marcel Dirsus (@marceldirsus) January 30, 2021
Flexibility is key when dealing with people. After all, something that on paper looks like the most efficient way to do things isn't always in practice. If someone abruptly shouts their order at a waiter without saying please, it may technically be faster than taking the time to be polite, but we know which person would get their order first. 
And while following the rules and leaving things to the authorities might be the natural Teutonic response, every single day the pandemic drags on costs hundreds of lives and huge sums of money.
Let's hope Germany can be pragmatic, bend the rules, and come up with some creative solutions, like ignoring ludicrously strict data protection laws, giving out doses morning, noon and night (and weekends!), or even allowing other manufacturers to copy the vaccine formula. I'm not holding my breathe. 
READ ALSO: How can Germany speed up its vaccination campaign?
See Also