Over the last 24 hours, German health offices recorded a total of 10,272 new coronavirus infections, or 30 less than the previous week, according to the Robert Koch Institute (RKI).
Authorities also reported 640 deaths from or with the virus in the past 24 hours. The previous day the figure was 100 less, whereas 50 more cases were reported on Thursday a week ago.
According to the RKI, the number of new infections per 100,000 inhabitants reported within seven days (7-day-incidence) was 57.1 nationwide, slightly higher than the previous day (57).
Die 7-Tage-#Corona-Inzidenz in ?? STEIGT, wenn auch nur leicht, von 57,0 auf 57,1.

Auch nicht gut: Inzidenz in Thüringen (war schon unter 100) steigt weiter, auf nun 119,5.

Immerhin: Baden-Württemberg (42), Berlin (48) und Rheinland-Pfalz (46) weiter unter 50.@welt pic.twitter.com/kSdhyxw0eU

— Olaf Gersemann (@OlafGersemann) February 18, 2021
This tweet gives an overview of some numbers around Germany: the seven-day-incidence in the eastern state of Thuringia has gone up, whereas it's stayed below 50 in other states including Berlin.
The nationwide seven-day reproductive number (R number) as of Wednesday evening stood at 0.85 (previous day 0.84). The value means that 100 infected people go on to infect on average 85 more people.
In total, 2,362,952 people in Germany are reported to have contracted coronavirus since the pandemic began. A total of 67,173 people have died with a Covid-19 infection.
READ ALSO: Mass testing v lockdown: How France and Germany's approaches to Covid radically diverged
Where in Germany is the most affected by the virus?
Germany's most populous state of North Rhine-Westphalia on Thursday recorded the most new infections within one day, or 1,811, according to the RKI. 
Bavaria, the largest state in terms of land area, reported 1,209 total new infections.
The following map (credit: DPA) shows the districts with the highest seven day incidence around Germany as of Wednesday.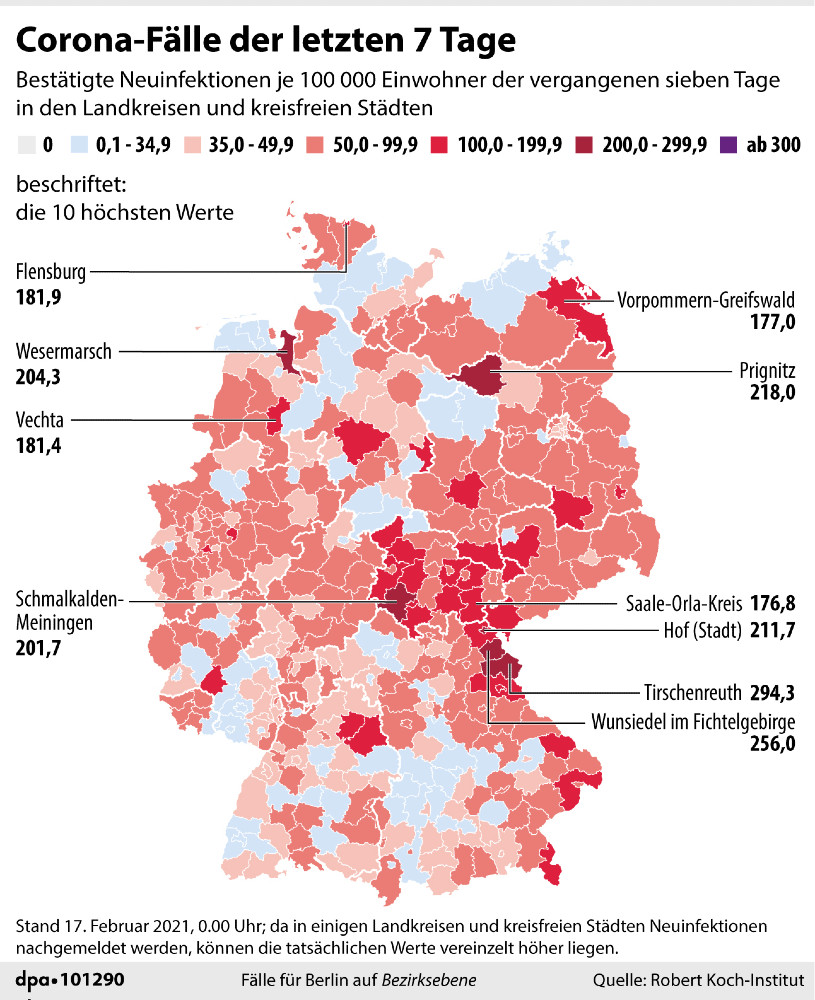 In Lower Saxony, there were 1,094 new cases, followed by Baden-Württemberg with 886 new cases. 
Comparing cities and counties, Berlin had the most new infections in one day – 443. Twenty districts reported no new infections on Thursday.
The highest number of deaths reported from the virus on Thursday was in North Rhine-Westphalia (134), followed by Bavaria (105) and Lower Saxony (73).
Among the cities and counties, the district of Passau in Bavaria and Recklinghausen in North Rhine-Westphalia reported the largest number of deaths from or with the virus, or 26 each.
Berlin recorded 25 deaths from or with the virus in the last 24 hours.
What do the new figures mean?
The new figures suggest that the decline in infection figures observed for weeks is coming to a halt. However, a reliable assessment will only be possible in a few days. 
Experts point out that, due to extreme weather conditions over the past week and a half, some people may have visited a doctor or a test centre later than usual, and new infections may therefore have been recorded with a delay.
Germany is pushing to get the seven-day-incidence below 35 in order to reopen public life, and some states such as Bavaria and Schleswig-Holstein have already made proposals for openings based on this number.
READ ALSO: How Bavaria plans to reopen after Covid shutdown
Some state leaders are hopeful of a gradual reopening of public life as of March 7th, when Germany's current shutdown is set to end, but others are more cautious about making plans before seeing how current figures develop.
It is not yet possible to predict how the more contagious variant B.1.1.7 will develop, and how this could impact infection figures going forward.
On Wednesday, Health Minister Jens Spahn (CDU) warned that the UK variant of the coronavirus is spreading rapidly, and now accounts for more than one in five new cases in Germany.
READ ALSO: UK coronavirus variant spreading rapidly in Germany, warns health minister