Söder, of the Christian Social Union (CSU), has presented a proposal on possible further relaxation steps for Bavaria, which has been hit hard in the pandemic.
"Of course we'll open up if the numbers go down," Söder said at the CSU's online political Ash Wednesday conference in Passau.
He stressed that further easing of restrictions would not be determined by a date, "but by the incidence" – the number of cases per 100,000 residents within seven days. On Thursday February 18th, Bavaria had a seven-day incidence of 55.3. The nationwide incidence was 57.1
Here's a look at where the southern state currently stands, and what's coming up.
Curfew is gone – and more social contact to be allowed
Söder said that Bavaria's night time curfew had already been lifted because it's no longer proportionate in view of the falling Covid-19 numbers. In future it will only apply in cities and districts with a 7-day incidence above 100 and will be in effect between 10pm and 5am.
Söder said a slight relaxation of contact restrictions was on the cards.
"If the numbers improve now, more contacts will of course soon be allowed," he said.
Currently, nationwide a household is allowed to meet with one other person and contacts must be kept to a minimum (a so-called social bubble). Söder suggested that in future two households may be allowed to meet.  He said more social contact is particularly important for children.
READ ALSO: What you need to know about Germany's extended Covid-19 measures – and opening plans
Further opening of schools very slowly
According to Söder, the state government wants to proceed "very sensitively" with schools.
"Slow start, but with appropriate test concepts and with a mask plan," he said. In the first opening step – as already announced – primary school pupils and graduating classes will be allowed to return to school from next week – but "only if there is a certain incidence and then only in alternating classes".
For Söder, the motto is: "One thing at a time. Weigh it up, determine the balance."
Will any shops open from mid-March?
In the retail and business sector the first step is to open hairdressers next month, in line with what Chancellor Angela Merkel and the states agreed in their recent talks.
"From March 1st, it's back on," said Söder. And if the numbers continue to fall, Söder says "garden centres (and florists) will then follow at the beginning of March".
He said these were similar to supermarkets with perishable goods, and it would be in time for the spring season.
READ ALSO: Merkel proposes plan to gradually relax Covid-19 restrictions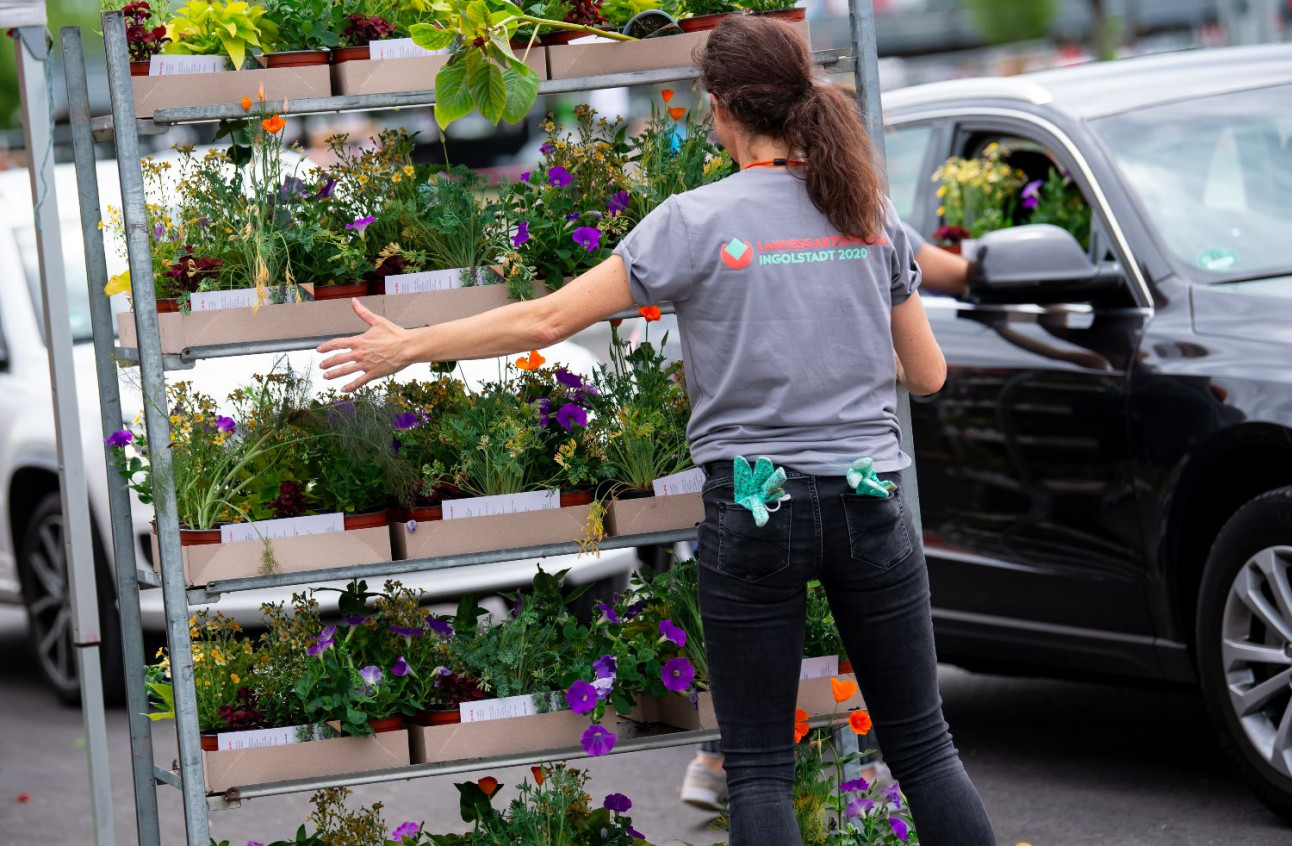 Photo: DPA
So what about other shops?
Of course, the retail sector "won't be closed forever", the CSU leader assured. "After all, there are also great protection concepts now with FFP2 masks. But here, too, the numbers have to be right."
The target figure to open other non-essential shops in Bavaria is a 7-day incidence of 35 new infections per 100,000 people.
He said: "I am sure that when we have a stabilised incidence of 35, then the retail trade will be able to open, perhaps even as early as mid-March." But that will be done "in a cautious way", for example by ensuring there aren't too many customers at one time.
After retail – sports and culture
According to Söder, after shops are reopened, individual sports such as tennis and golf should be allowed again. Culture facilities would come next. Söder said it was important to strengthen the culture scene after the shutdown.
This doesn't only mean promoting high culture, he said, but also the independent scene, young artists "and launching a concept of a very modern open-air culture throughout Bavaria".
Steps on how to open sports clubs again are also being considered.
READ ALSO: The charts and maps that show Germany's coronavirus situation
Opening restaurants and other venues 'most difficult'
According to Söder, reopening the hospitality sector is the "most difficult" part "because the protection concepts are difficult here".
In pubs and restaurants, it's not possible to work only with FFP2 masks. "If eight friends sit together without masks, it could become even more dangerous," he said. "That's why the numbers have to become a bit more stable and better."
No forecast for Easter or beyond
When it comes to looking ahead to Easter in early April, Söder said it was too early to predict what would be allowed to reopen by then.
"I wouldn't rule anything out, but I wouldn't promise anything now either," he said.

Söder remains on the "side of caution". The situation is very volatile, he said. "Volatile means: everything can be fine with you today, but if you're not careful, you'll be a hotspot in no time tomorrow."
Söder said, however, that he was pleased with the current 7-day incidence of around 55 in Bavaria.
"Who would have thought six or seven weeks ago that we are already at this point again," he said.
But he urged people not to lose patience now, saying there are still big concerns about the Covid-19 variants spreading and pushing up numbers.
READ ALSO: Will Easter holiday travel be possible in Germany this year?
Aiwanger: Hospitality sector to open by Easter at the latest
State minister of economics and vice premier Hubert Aiwanger, of the Free Voters, on the other hand, has called for a faster roadmap to reopening public life.
Politicians must pay more attention to the "overall situation" when making decisions and "not just listen to the virologists", he said, pointing out the damage to the economy of a prolonged lockdown.
Aiwanger said that public life should for the most part be reopened "at the very latest by Easter", adding that the tourism sector had to be given a chance to get back on its feet.
Politics must give perspective "not only in words", "but also in data and in concrete projects", he said.