In a press conference on Friday Spahn said the decreasing number of infections in Germany was an "encouraging" sign.
"But they have not yet fallen enough for us to be able to relax the measures now," he added. 
Chancellor Angela Merkel and state leaders on Wednesday extended the Covid-19 shutdown until at least March 7th – with some exceptions. States can open schools and daycare centres earlier if they choose, and hairdressers can reopen from March 1st.
However, Spahn warned against moving too quickly.
"If we open up now, we'll gamble away the success we've had so far," he said, adding that the coronavirus mutations were too dangerous to risk making the wrong move.
READ ALSO: What you need to know about Germany's extended Covid-19 measures – and opening plans
Spahn pointed out that the measures taken to fight the virus were also effective against its mutations.
The Health Minister said he expected the number of coronavirus cases per 100,000 residents in a period of seven days (7-day incidence) to fall below 60 soon. On Friday the 7-day incidence stood at around 62.
German states should get down to a stable level of 35 new cases per 100,000 residents to open more of public life. Previously, authorities had been aiming for 50 cases per 100,000 people – but this goal was changed due to the variants.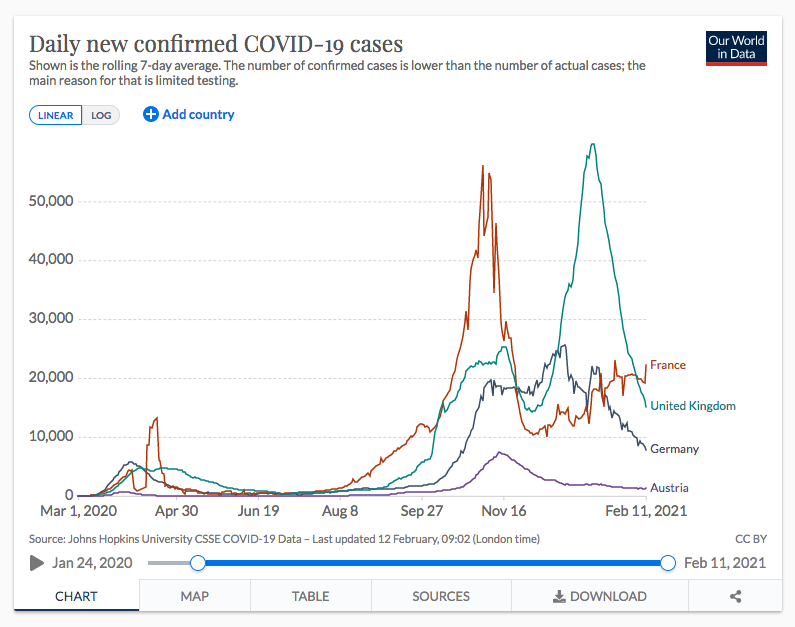 Source: Our World in Data
Spahn defended Germany's decision to close borders to areas where virus mutations are widespread, including the Czech Republic and Austria's Tyrol region.
The step was "unavoidable" he said.
Flu cases dramatically down – but variants spreading
Robert Koch Institute (RKI) boss Lothar Wieler said on Friday that coronavirus restrictions had relieved the burden on the health system, particularly because other infectious diseases, as well as Covid-19, had been curbed.
Apart from reducing Covid-19 cases, Wieler said there have been significantly fewer cases of flu in Germany.
Normally, thousands of cases are registered in Germany every week in winter, whereas at present there are only 20 to 30 at most. This relieves the burden on doctors' surgeries and hospitals, he said.
Wieler said this is particularly important because more contagious variants of coronavirus are expected to make it more difficult to combat the pandemic.
"We have to at least slow down the spread of the variants," Wieler said. And new variants must be prevented from emerging, he added.
Last week, the mutation B1.1.7 was responsible for about six percent of the new cases. New data on the spread should be available in the coming week, he said.
The spread of the variants in Germany is considered a decisive factor on whether the infection figures will continue to fall – or rise again.
Some experts have even called for the country to tighten measures rather than loosen them in response to the variants.
READ ALSO: Should Germany's lockdown be tightened further over variants?
Germany on right track
Overall, however, RKI head Wieler said Germany is on the right track.
The number of cases have clearly gone down, but that is not an all-clear. The situation is stabilising in many intensive care units, but it is still tense, Wieler said.
"And unfortunately, a lot of people are still dying in connection with Covid-19," he added.
During the pandemic, more than 64,000 people have died in Germany so far. Therefore, new infections must be prevented: "Every infection is one too many," he said.
Meanwhile, in the debate about the vaccination strategy, Health Minister Spahn announced that he would talk to the Standing Committee on Vaccination to examine priority groups.
He wants to check whether primary school teachers and educators could be placed in a higher priority group. They are currently in group three.
Spahn also said he wants to look into fines against people who illegally jump the queue for vaccinations.
READ ALSO: Germany aims to offer priority groups and all over 60s first vaccine by end of June