Are numbers coming down?
Yes. On Friday February 12th, the Robert Koch Institute (RKI) reported 9,860 new Covid-19 cases within 24 hours, and 556 deaths.
A week ago the numbers were higher – 12,908 coronavirus cases (-3,048) and 855 (-299) deaths were reported within 24 hours.
In total there have been 2,325,707 coronavirus cases and 64,595 deaths reported in Germany.
The real number of infections, however, is likely much higher due to many cases going undetected.
In general the number of cases per 100,000 residents in seven days (the 7-day incidence) has been decreasing in the last weeks.
On Friday the 7-day incidence stood at around 62. That's a huge decrease from about four weeks ago, on January 13th, when the incidence was 155.
And at the peak just before Christmas on December 22nd the number of cases per 100,000 residents within a seven day period stood at almost 200.
READ ALSO: What you need to know about Germany's extended Covid-19 measures – and opening plans
Chancellor Angela Merkel said on Wednesday that the numbers were falling after more than three months of tough restrictions.
"When we look at this development we can be quite satisfied," she said.
On Thursday Merkel added that people in Germany had "succeeded in preventing the health care system from being overburdened".
"Vaccination is gaining momentum. Infection numbers are on the way down," she added.
This chart below by Our World in Data researchers shows the number of daily new cases in Germany on a rolling seven day average.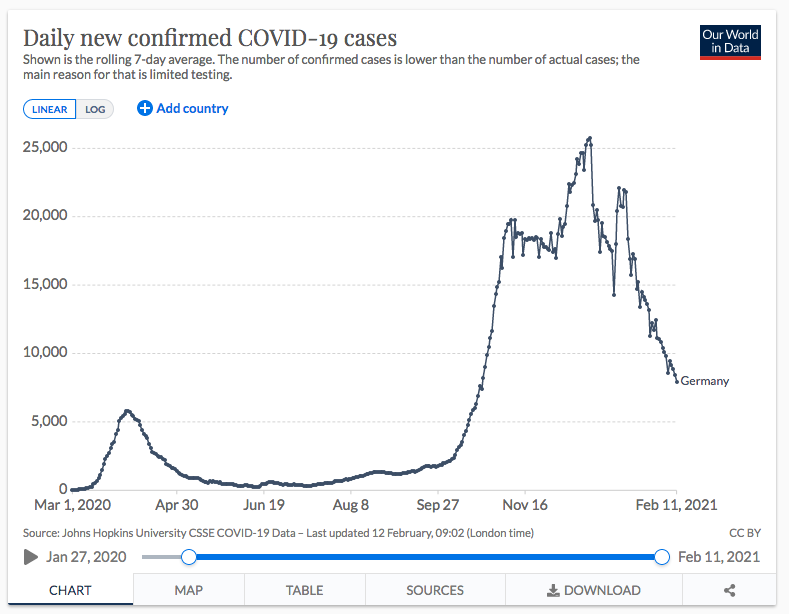 The nationwide seven-day reproductive number (R0) was 0.85, according to the RKI situation report on Thursday evening.
This means that 100 infected people go on to infect on average 85 others. The value represents the infection situation eight to 16 days ago. If it is below one for a longer period of time, the incidence of infection is decreasing.
Compared to other countries
When it comes to comparing Germany's current Covid-19 rates to other countries in Europe and beyond, things look good at the moment for Germany (see chart below – although note that the amount of testing being done will differ from country to country so there can be no direct comparison).
Germany has opted for strict lockdown measures whereas other countries, like Sweden, have avoided this kind of action.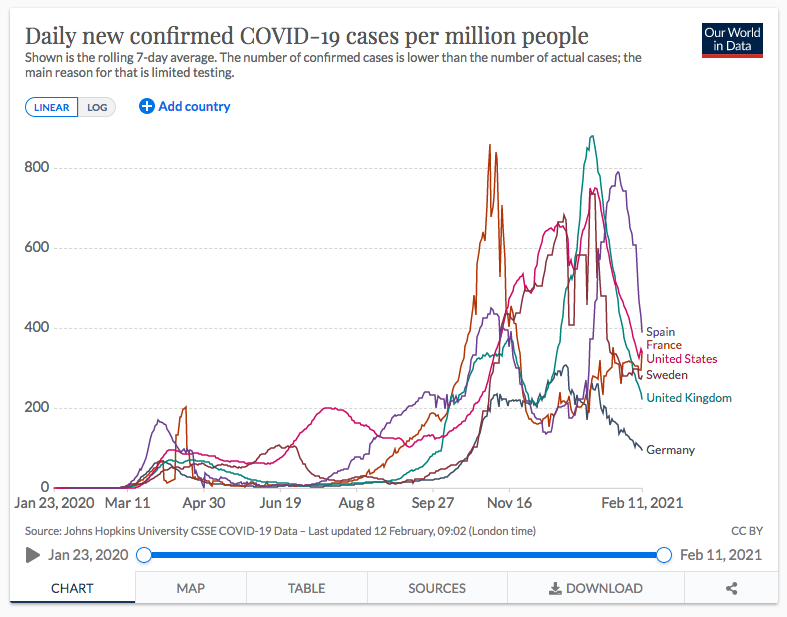 For a more in depth comparison between Germany and other countries in Europe, see the link below.
COMPARE: How are countries in Europe dealing with the Covid-19 pandemic?
So why are the measures being extended in Germany?
On Wednesday the government and states decided to extend the coronavirus shutdown until at least March 7th – with some exceptions.
Schools and Kitas can open earlier if states decide to do so. The majority have agreed on a reopening of February 22nd. Hairdressers will be allowed to open from March 1st for "personal hygiene" reasons.
If states get down to 35 new infections per 100,000 residents in seven days, they can begin relaxing the shutdown gradually.
The government and states said the restrictions were still needed at the moment due to concerns about the more contagious virus variants first detected in Britain and South Africa spreading in Germany.
The Covid-19 mutations, which have now been detected in 13 out of 16 German states, have led to more aggressive viral variants, Merkel said.
Merkel stressed: "The vast majority of the restrictive measures must be maintained consistently."
The RKI also said the situation is still serious in Germany.
"Currently, the number of transmissions in the population in Germany remains high and the RKI assesses the level of threat to the health of the general population to be very high," health experts said in their latest report.
What's the situation in different states?
There's a mixed picture across Germany, although according to the RKI, most federal states are continuing to record falling seven-day incidences.
On Friday, the number of cases per 100,000 in seven days was highest in the eastern state of Thuringia with 105.9.
In Berlin and Hamburg the 7-day incidence was 57.7, in Baden-Württemberg it was 53.4, in Bavaria it was 62.5, Hesse recorded an incidence of 59.3 and in North Rhine-Westphalia the number stood at 59.3.
The number of cases in districts also differs massively. The below map by DPA shows which districts have seen a drop in the incidence rate between February 5th and 12th, and which have seen a rise.
The areas in purple and red are where the situation is particularly difficult.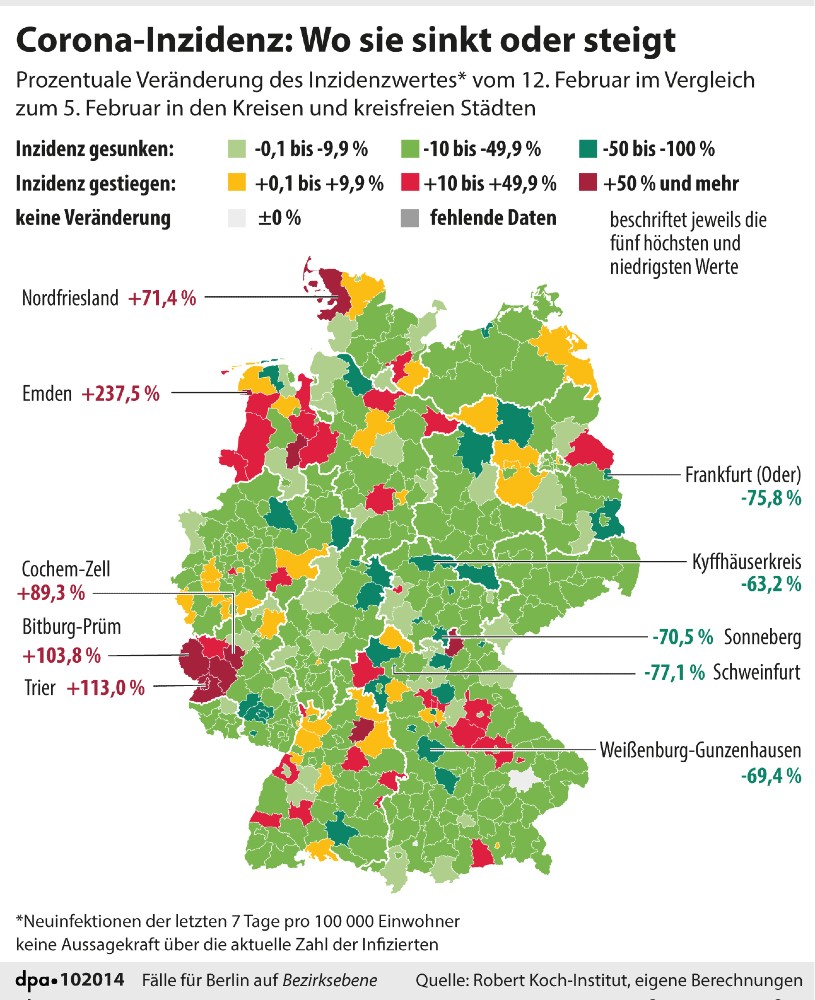 What about free ICU beds?
On Thursday February 11th, 3,675 Covid-19 patients were in intensive care in Germany, with 2,055 receiving ventilation treatment.
That's down from January 19th when there were 5,000 Covid-19 patients in ICU.
Overall, 26,974 intensive care beds are registered with the RKI, of which 22,401 (83 percent) are occupied, and 4,573 (17 percent) are available.
How is the vaccination drive going?
As The Local has been reporting, Germany's vaccine rollout is slower compared to other countries (as the chart below shows).
The lack of supplies of vaccine to Germany has been blamed on the purchasing strategy of the EU.
Plus, with the main providers – BioNTech, Moderna and AstraZeneca – all failing to deliver the agreed amount of doses for the first quarter of the year, vaccine centres across Germany have been underused or even empty since the rollout started at the end of December.
There are also concerns about bureaucracy hurdles when trying to book appointments in German states.
The rollout is expected to pick up from April onwards when more doses are delivered.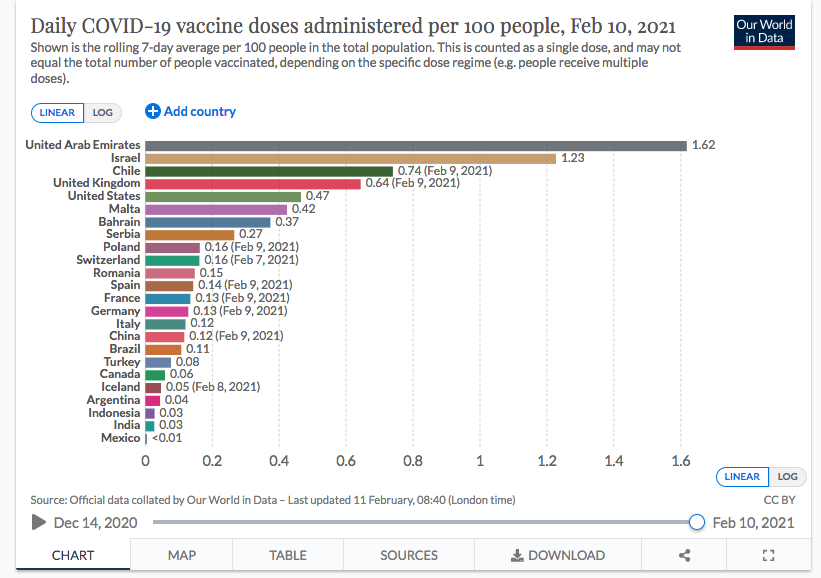 Up to February 11th, 2,556,697 people (3.1 percent of the total population) have now received one vaccination dose and 1,253,306 people have received both doses in Germany.
READ ALSO: How people across Germany have skipped the Covid-19 vaccine queue