What's happening?
We've been told vaccination is the key to getting out of the pandemic. But the immunisation of the population is progressing slowly.
Chancellor Angela Merkel and other German politicians are to meet pharma industry representatives on Monday afternoon for an emergency meeting.
After facing sharp criticism over the slow start to the country's vaccination programme, Merkel hopes the meeting will bring the rollout back on track and soothe anger among politicians and residents.
READ ALSO: How long might it take to get a coronavirus vaccination in Germany?
Here's what's likely on the agenda:
Did Germany and the EU order enough vaccines?
In the coming weeks, vaccine doses will be in short supply in Germany. The approval of further effective vaccines from other manufacturers may help against this shortage.
Curevac, Novavax and Johnson&Johnson are considered potential candidates for the European market. However, there are also calls to review the vaccines of Russian and Chinese manufacturers for use in Europe.
READ ALSO: Merkel and Putin discuss possible joint Covid-19 vaccine production
But the EU and Germany is also under fire over their strategy so far.
In 2020, the EU ordered around two billion vaccine doses from six vaccine manufacturers – enough for the 450 million EU citizens. The problem is that several manufacturers experienced delays in development because the vaccines proved to be limited or even ineffective, reported the Berliner Morgenpost on Monday.
However, the EU only ordered 300 million doses of the first approved vaccine from BioNTech/Pfizer (a repeat order is in the works), and only 160 million doses of the second approved vaccine from the US company Moderna, because both vaccines were more expensive and seemed riskier. Both vaccines involve people receiving two doses.
World vaccination champion Israel ordered from only three manufacturers and paid considerably more for it than the EU.
According to the Health Ministry, Germany expects to receive about 60 million doses from BioNTech (plus a national option of 30 million, which will be delivered much later) and 50.5 million from Moderna. That would end up being enough for 55 million German residents.
The below Our World in Data chart give an idea of where Germany stands in the vaccination programme compared to other countries.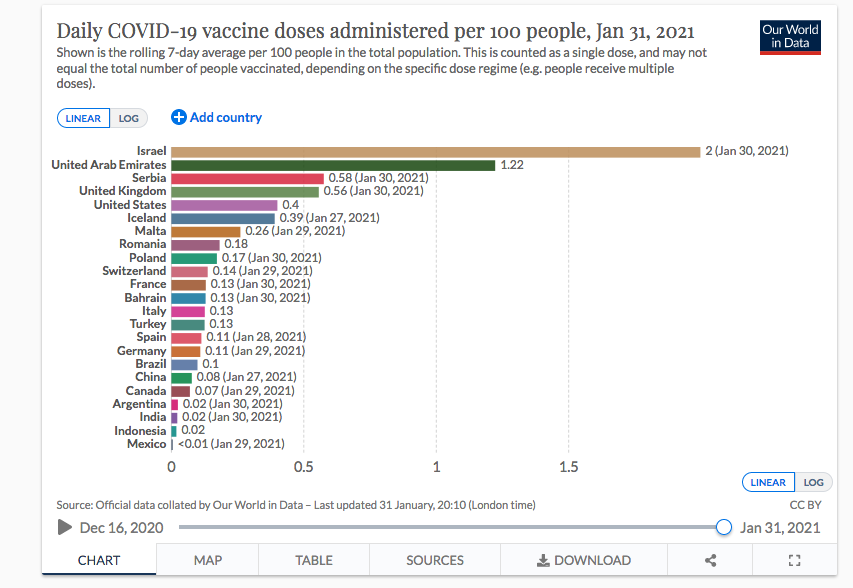 Now opposition parties are piling pressure on Health Minister Jens Spahn asking why there wasn't a better strategy for sourcing vaccines in the first place.
On Friday 2.2 percent of the population had been vaccinated, said Spahn, of Merkel's Christian Democrats (CDU). More than 400,000 people had received the second dose.
READ ALSO: Germany assures worried states that further 5 million vaccine doses are on the way
Can Germany ramp up production?
A major reason for the crisis is delivery problems with all three approved vaccines. First, BioNTech-Pfizer reduced its quantities for the EU because of a production bottleneck at its plant in Belgium – hence the delays in Germany.
Then AstraZeneca announced it would reduce its planned volumes for the EU by more than half to 31 million doses in February and March. And now Moderna is also cutting back on deliveries. The EU Commission blames the manufacturers, pointing to supply contracts.
But an analysis by the Munich-based Ifo Institute claims the EU concluded the contracts too late and agreed on contracts with "vague delivery targets".
In order to ramp up production volumes, the vaccine summit will discuss whether other pharma firms can support vaccine manufacturers.
Green Party leader Robert Habeck called for 'emergency vaccine production'. All pharma companies should be "immediately involved in production according to their capabilities", Habeck told the Morgenpost.
"This applies to all those vaccines that have been proven successful or still have a quick prospect of success." In doing so, he said, the government should not shy away from mandatory licensing.
EXPLAINED: What's gone wrong with Germany's vaccine strategy?
There is opposition to this, though, in particular from Free Democrats (FDP) leader Christian Lindner. "I would like to see innovative ideas from the vaccination summit. Compulsory state licences are not one of them," he said, adding that it would be better to give incentives for faster production.
Why is it so difficult to get a vaccination appointment in some German states?
While in federal states such as Berlin or Mecklenburg-Western Pomerania the allocation of vaccination appointments has run relatively smoothly, in others such as Baden-Württemberg and North Rhine-Westphalia there is chaos.
People have been unable to get thorugh to the vaccination hotlines while websites cannot cope with the demand. Appointments that are displayed as "available" can't be booked, or there are none at all.
So it's not only about a lack of supplies, but also poor organisation and communication.
Green leader Habeck advocated for a rapid overhaul in the allocation of vaccination appointments nationwide.
"Those who can be vaccinated should be notified automatically so that they are not left waiting in frustration," he said. "If the state can offer 80th birthday congratulations, then it can actively offer appointments."
Will there be a change in the order people are vaccinated in Germany?
AstraZeneca's vaccine, which was approved by the EU Commission on Friday, will likely not be given to people over 65 in Germany.
The Standing Committee on Vaccination advised this because there had been too few test people from this age group. In Italy, the jab is recommended only for adults up to 55-years-old.
This age restriction brings up the question of whether the schedule should be changed.
The highest priority in Germany is given to residents of old people's and nursing homes, people over 80, nursing staff, as well as employees in medical facilities who are exposed to a high risk of infection or who have close contact with vulnerable groups.
The second priority group includes people aged 75 to 79, people with Down's syndrome, dementia sufferers and people with mental disabilities living in care homes, plus those working there.
READ MORE: How Germany will roll out Covid-19 vaccinations
Politicians and pharma representatives will address the question of whether the order should be changed in light of the recommendations on the AstraZeneca jab.
It will also look at whether certain occupational groups, such as police officers, should be given higher priority.
In the run-up to Monday's meeting, states such as Schleswig-Holstein and Lower Saxony have spoken out against this move.
Baden-Württemberg's Interior Minister Thomas Strobl (CDU), on the other hand, is pushing for a change in the order.
"We must vaccinate hospital staff as a matter of priority, especially in the Covid wards," he told the Berliner Morgenpost, adding that the coronavirus variant poses a big risk at the moment.
Uncertainty about the exact effect of the vaccines
In general there are still unanswered questions about Covid-19 vaccinations.
We don't know, for example, if people who have received their two doses can still pass Covid-19 to others. We also don't know how long immunity lasts.
It is quite possible that in future, as with the flu vaccination, people will have to be vaccinated against Covid-19 once a year.
READ ALSO: Germany secures vaccines for next year
The vaccination summit will also have to discuss these topics, and how to increase the population's confidence in receiving the jab.