People in Germany have been wearing face coverings since the government made it mandatory at the end of April last year.
But earlier this month the restrictions changed: medical masks now have to be worn when people are shopping or riding on public transport.
The new rules were brought in as part of tighter measures to deal with the threat of Covid-19 variants.
Since homemade cloth masks, scarves and shawls used to cover the mouth and nose are no longer allowed, the demand for better protective equipment in the crisis has risen rapidly.
In most of the country (except the states of Schleswig-Holstein and Bavaria where only FFP2 masks are allowed) disposable medical surgical masks are also permitted, and they're popular.
However, for many people the FFP2 mask, which promises more protection, is now standard equipment when shopping or taking the bus.
READ ALSO: What you need to know about Germany's new mask rules for shops and public transport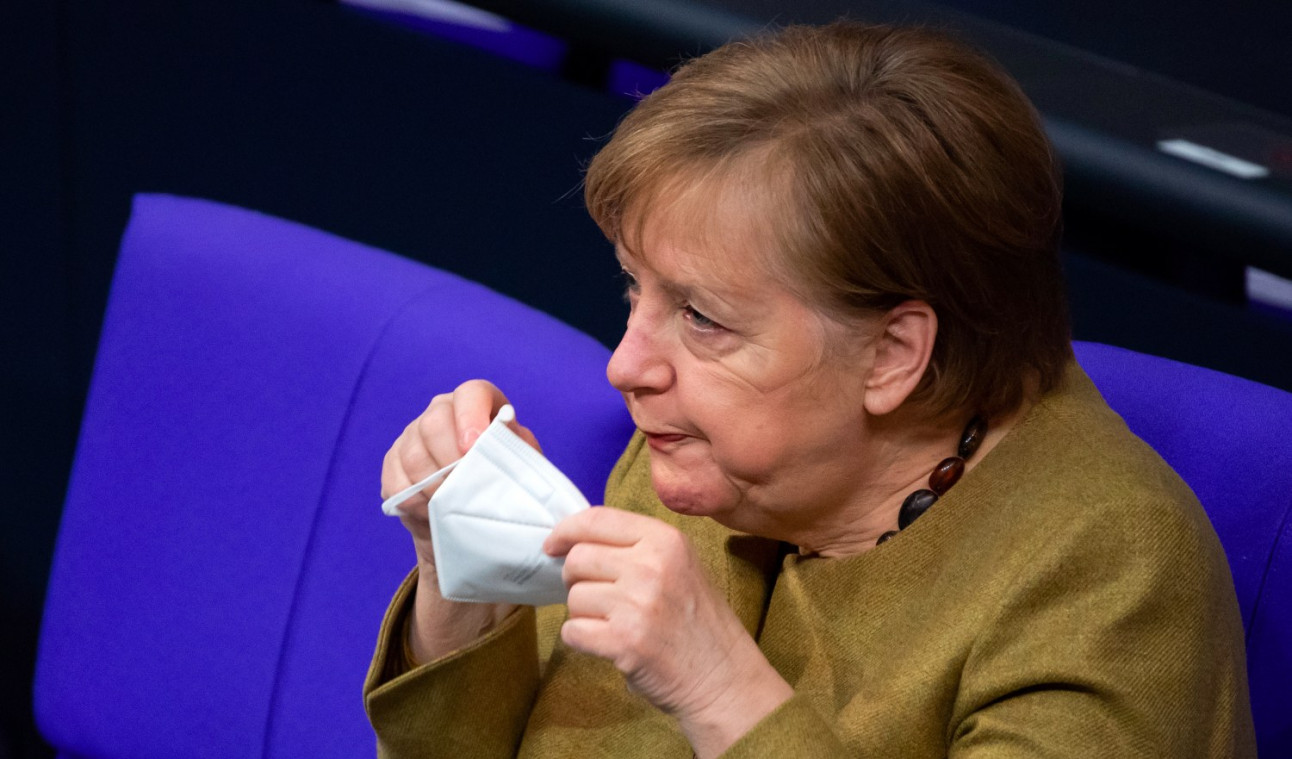 Angela Merkel with a mask in the Bundestag. Photo: DPA
Despite initial worries that there might not be enough supplies, things appear to have gone smoothly.
Unlike in spring 2020, when the German government changed its mask strategy at short notice without it being clear where the masks would come from, there are no bottlenecks so far this time.
"We are seeing that the market is coping well not only with the demand for surgical masks, but also for FFP2 masks," said Christian Splett, spokesman for the Federal Association of German Pharmacists (ABDA).
"Of course, the masks can be sold out for a day here and there, but that is normal. The nationwide supply is guaranteed."
In pharmacies, retail stories and online, the prices of the masks (which can range from €1 to €5 or even more per piece) have also dropped in recent weeks. 
"The market is virtually flooded with masks from Chinese manufacturers," said Thomas Vierhaus, managing director at the Association of Technical Trade (VTH). And one or two German producers are now also involved.
READ ALSO: How face masks have helped slow down the spread of coronavirus in Germany
Huge demand
These include entrepreneurs like Michael Sperling and Christian Vorbau. One runs a mechanical engineering company in Berlin, the other a young start-up in Wuppertal, North Rhine-Westphalia.
Both initially started importing protective masks from China to sell in the spring of last year.
Due to the different quality, they then set up their own production facilities and now produce FFP2 masks in Germany for pharmacies, wholesalers, hospitals, care facilities and private consumers.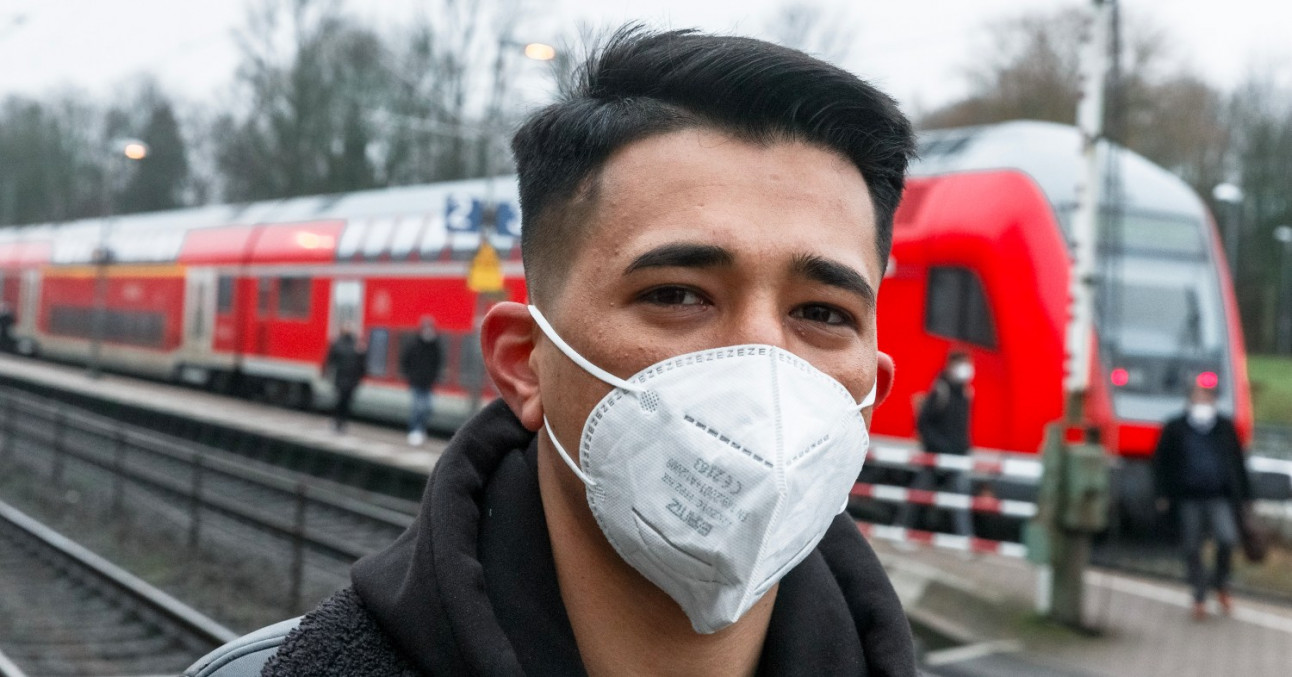 A man wearing an FFP2 mask in Bargteheide, Schleswig-Holstein. Photo: DPA
The demand is enormous, said Sperling, managing director of the Berlin-based company Rabofsky.
"If we activate our online shop for half an hour, we sell around 15,000 masks on average." That's how many one of the two machines in the company manages per shift, i.e. in eight hours. Both machines run around the clock, five days a week.
Rabofsky currently produces around 450,000 a week.
In Wuppertal Christian Vorbau and his business partner founded their start-up Sentias with the sole purpose of producing FFP2 masks. With their three machines, they produce more than a million units a week.
Both entrepreneurs emphasise that they are not interested in making a quick euro. "We want to build a brand that will establish itself on the market in the long term," said Vorbau.
What makes the masks different?
Unlike medical surgical masks, FFP2 masks are considered as personal protective equipment and therefore fall under the same category as helmets or safety boots.
The abbreviation – FFP – stands for "filtering face piece", while the number stands for the protection factor.
They were not used in hospitals before the crisis, but mainly in construction, where they protect painters, varnishers or others from dust and toxic fumes. Personal protective equipment is extensively tested before it is sold.
READ ALSO: What you should know about Germany's stricter lockdown measures
In Germany, TÜV and Dekra are responsible for testing. They are being floored with enquiries at the moment.
"Now that we are back in lockdown, we can also see that various companies in Germany have started to manufacture FFP2 protective masks here themselves," said Dirk Renschen, who heads a testing laboratory in Essen for TÜV-Nord.
"That's also why we have quite a lot of enquiries and a good workload. We've also had to postpone some orders."
For the manufacturers and middlemen, the process can be long. Some then send their masks to other testing centres, for example in Hungary or Turkey, which are also registered for testing within the EU.
The quality of Chinese-made protective masks is now also very high, said Dirk Renschen in Essen.
Things looked different in the spring of 2020. "There were many companies abroad that took advantage of the situation and sent very poor quality masks to Germany," he said.
Up to a quarter of the masks failed in the laboratory back then. "The situation has improved a lot," he said.
Neither the German manufacturers nor the wholesalers believe the demand for protective masks will decline again.
Not least because another advantage is becoming apparent at the moment that could be helpful long after the coronavirus pandemic is over.
"This winter we had fewer employees with colds than we have had for years," said the Berlin entrepreneur Sperling.