The so-called 7-day incidence stood at 98 on Thursday, according to the Robert Koch Institute (RKI).
This means that the number of new infections reported within seven days has roughly halved since the peak just before Christmas – at that time on December 22nd the 7-day incidence reached 197.6.
German authorities are aiming to get the incidence down to a rate of under 50 new infections per 100,000 residents within a week in order to be able to trace infections.
What are the current numbers?
On Thursday, the RKI reported 17,553 new coronavirus infections within 24 hours, and more than 900 deaths.
A week ago authorities recorded 20,398 new infections and 1,013 deaths within a day.
The highest number of daily deaths was recorded on January 14th when 1,244 people were reported to have died.
Since the beginning of the pandemic, the RKI has recorded 2,178,828 confirmed infections. The real number is likely to be much higher, as many infections are not detected.
The Our World in Data chart below gives an idea of the current infection situation in Germany, and the difficult second wave.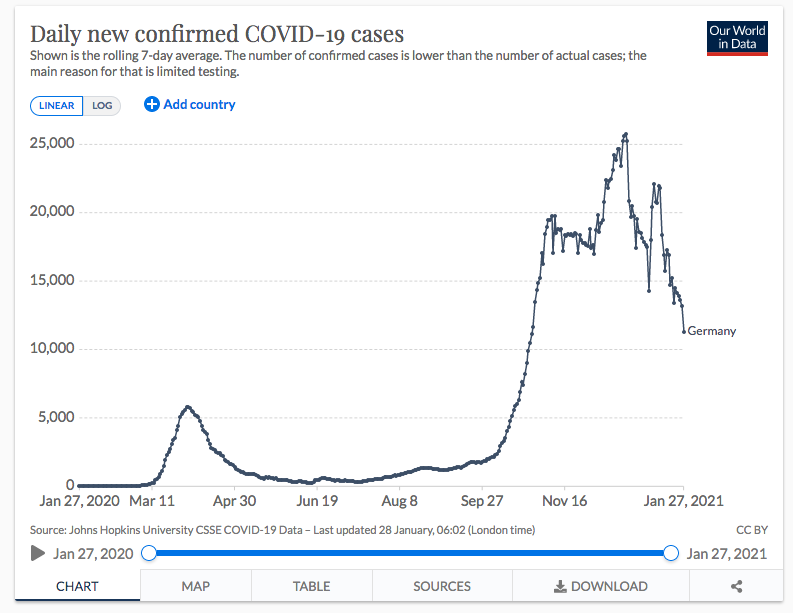 However, there are still major state differences.
In Saxony-Anhalt and Thuringia, the 7-day incidence rate stands at around 174 new infections per 100,000 residents. In Brandenburg the number is at 151.4. 
The lowest incidence is in Bremen (72.8).
In Baden-Württemberg it's 79, while in Bavaria it's 97, it's 89 in Berlin and 93 in North Rhine-Westphalia.
What's the big picture?
The total number of people in Germany confirmed to have died from or with Covid-19 stands at 54,913.
The nationwide 7-day reproductive number was 0.87 (previous day 0.88), according to the RKI situation report published o Wednesday evening.
This means that 100 infected people on average go onto infect 87 others. The value represents the number of infections 8 to 16 days ago. If it is below one for a longer period of time, the incidence of infection is decreasing.
Despite the encouraging numbers, there are major concerns over new highly infectious variants, such as those detected in the UK, South Africa and Brazil.
On Thursday, Interior Minister Horst Seehofer announced plans to introduce drastic travel restrictions against countries with Covid-19 variants spreading fast.
Chancellor Angela Merkel and state leaders recently tightened and extended the lockdown measures to February 14th over the threat of the variants.
Calls for a road plan out of the shutdown, which has been in place since the beginning of November and has got progressively tougher, are growing louder.
Yet Germany will have a tricky time balancing opening up public life again and keeping infection numbers down along with the variants.
Last week top virologist Christian Drosten warned Germany could see up to 100,000 cases per day in a worst case scenario if the country relaxes measures too quickly and variants spread.