On Monday Germany reported 6,729 new coronavirus infections within one day, while 217 deaths were registered.
Last Monday, the Robert Koch Institute (RKI) recorded 7,141 new infections and 214 new deaths within 24 hours.
On Mondays the number of cases recorded is usually lower, partly because fewer tests are carried out at the weekend.
A high of 1,244 new deaths was recorded on January 14th.
The highest number of new infections registered within 24 hours – 33,777 – was reported on December 18th, but this figure included a late report of 3,500 cases from the previous day.
This chart below by the European Centre for Disease Prevention and Control, shows the number of daily new cases in Germany on a rolling seven day average.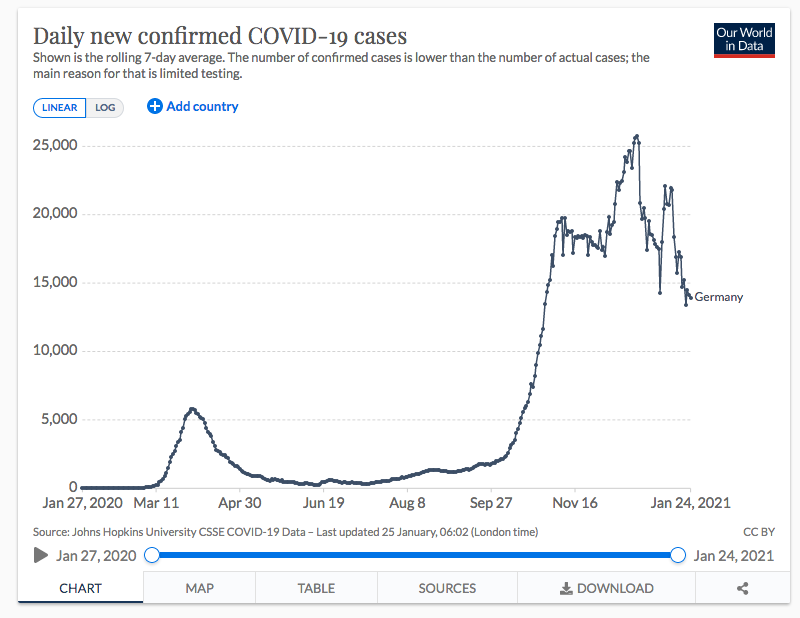 According to the RKI, the number of new infections reported within seven days per 100,000 inhabitants (7-day incidence) was 111.2 on Monday.
The previous peak was reached on December 22nd with 197.6. The number fluctuated thereafter but has been falling for several days.
The federal government's goal is to reduce the incidence to below 50 to enable contact tracing to be carried out.
However, experts have warned that the coronavirus variants pose a major threat and could lead to the situation becoming significantly worse if shutdown measures are relaxed too quickly.
READ ALSO: German virologist Drosten warns of 100,000 daily Covid-19 cases in Germany if measures taken away too quickly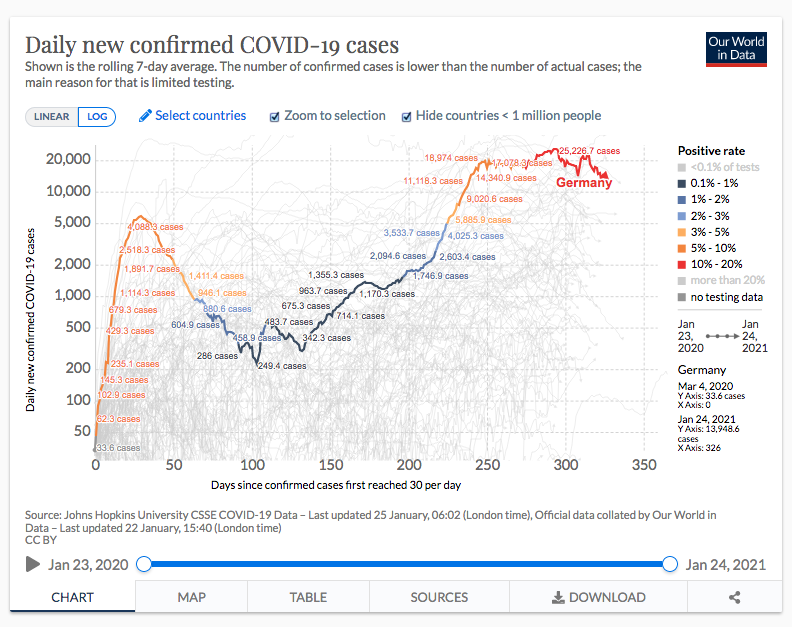 Due to the high numbers and deaths as well as fears over virus variants, Chancellor Angela Merkel and state leaders exteneded and tightened lockdown measures until February 14th..
In total the RKI reports 2,141,665 Covid-19 cases in Germany since the beginning of the pandemic. The actual total number is likely to be much higher, as many infections are not detected. The total number of people who have died from or with Covid-19 has risen to 52,087.
The RKI gave the number of those who recovered as about 1,823,500.
The nationwide seven-day R-value was 1.01 (previous day also 1.01), according to the RKI situation report on Sunday evening. This means that 100 infected people mathematically infect 101 other people. The value represents the number of infections 8 to 16 days ago. If it is below 1 for a longer period of time, the incidence of infection is decreasing.