What's the latest?
The Robert Koch Institute (RKI) for disease control on Thursday logged 25,164 new coronavirus infections within a day. Within that time 1,244 people in Germany died from or with the virus, bringing the total number of deaths in the pandemic to 43,881.
The previous record of 1,188 new deaths was reported on Friday January 8th.
The highest number of new infections registered within 24 hours – 33,777 – was reported on December 18th.
However, the interpretation of data is still patchy at the moment because of delays in testing and recording over Christmas and New Year.
The country is also bracing for the effects of people socialising and travelling over the holidays, which should become clearer in mid-January.
Since the beginning of the pandemic, the RKI has logged a total of 1,978 590 confirmed Covid-19 infections in Germany.
READ ALSO: Germany army offers 10,000 soldiers to help coronavirus fight
What's the picture across Germany?
The average number of new infections per 100,000 residents reported to the health authorities within seven days (seven-day incidence) in Germany was 151.2 on Thursday morning. This number is well above the critical threshold of 50 new infections per 100,000 residents which authorities are aiming for.
The previous incidence peak (197.6) was logged on December 22nd. However, the differences between the federal states are enormous: the highest incidences are in Thuringia with 310.4 and Saxony with 292.4. The lowest number is in Bremen with 84.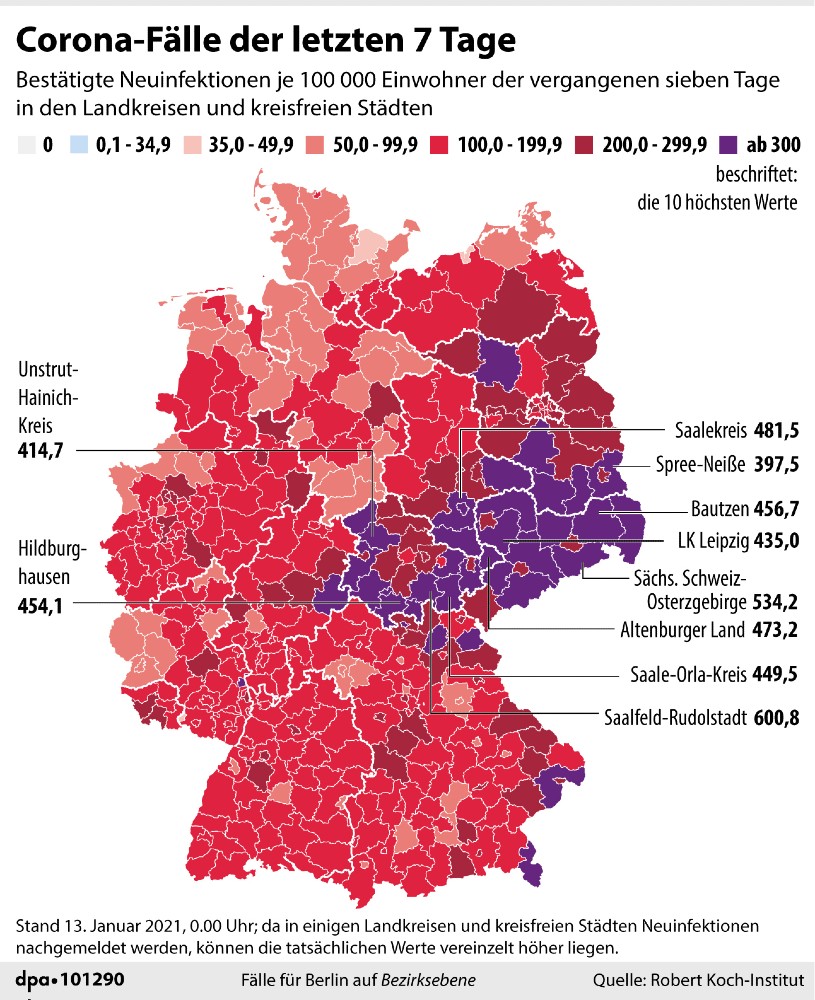 This graph (credit: DPA) shows where in Germany has the highest seven-day-incidence as of January 13th. 
The nationwide seven-day reproductive number (R number) was 1.02, according to the RKI's latest report on Wednesday. This means that 100 Covid-infected people infect on average 102 other people. The value represents the infection rate 8 to 16 days ago. If it is below 1 for a longer period of time, the incidence of infection is decreasing.
The RKI also states that on January 13th, 5,185 Covid-19 patients were in intensive care across Germany, with more than 80 percent of ICU beds occupied.
According to the latest figures, a total of 758,093 people in Germany have received their first dose of the vaccine.
Current contact rules 'not working as well as in spring'
Germany fared better than many other European countries during the first Covid-19 wave in spring but it has been hit hard by the second wave.
The nation of 83 million people, the EU's most populous, imposed another round of restrictions on Monday January 11th to limit social contacts and help hospitals cope with a surge in patients.
The measures are in place until at least January 31st but they are likely to be extended.
Epidemiologist Dirk Brockmann of the RKI said people needed to reduce their social contacts further to get numbers down.
He told broadcaster ZDF that the current current contact restrictions are not working as well as the lockdown last spring, as can be seen from the mobility data.
At that time, mobility had dropped by 40 percent within a week.
He said fewer people have been travelling and moving around since December, but it's not enough.
"That also has a lot to do with pandemic fatigue," Brockmann said.
He added that it was important to bring down the coronavirus numbers as soon as possible and not rely on people getting vaccinated.
"One thing is clear, vaccinating does not help us get out at this level where at least 1,000 people die every day," he said.
Vaccination is an important component against the pandemic, he said, but will only help in the medium term when many people have received their jabs.
EXPLAINED: What's gone wrong with Germany's vaccine strategy?