People living in Germany now face tougher coronavirus restrictions as the country aims to slow the spread and reduce the number of infections.
German Chancellor Angela Merkel and the heads of state governments agreed on Tuesday to extend the lockdown rules until the end of the month.
Among the new rules are tougher contact restrictions: meetings will only be possible with one other person who is not a member of your own household.
The government and states also agreed that for districts with a 7-day incidence of more than 200 new infections per 100,000 residents, the radius of movement is to be restricted to a 15 km radius around your home, unless there is a valid reason to travel further.
However, some of Germany's 16 states will likely deviate from the rules agreed.
READ MORE: EXPLAINED: These are Germany's new tougher lockdown rules
Restricting movement to 15km
After the meeting it became clear that the state of Lower Saxony does not plan to implement the restriction of freedom of movement for Covid-19 hotspots.
State premier Stephan Weil (Social Democrats) said justification on new restrictions was needed.
"This is part of the review programme for us, if and when a regulation is applied, or preferably not at all," he added.
A restricted movement order is already in place in the eastern state of Saxony where the number of new infections has risen sharply in the past three months.
Since December 14th, residents have only been allowed to travel a maximum of 15 km from their homes.
Thuringia is similarly affected by the pandemic. However, there is initially no obligation for citizens to limit their movement radius to 15 km, only a recommendation. It remains to be seen if this will change to an order.
Baden-Württemberg is also considering whether it will restrict movement in districts with high coronavirus infections.
"At the moment we are not planning to do that," state premier Winfried Kretschmann said. The state government will look further at numbers and make a firm decision this week.
READ ALSO: Germany toughens and extends lockdown until the end of January
How can it be enforced?
Some have raised doubts over how restricting movement on residents can be checked by authorities.
"It's clear that additional measures must be taken in areas with very high incidences," said chief executive of the German Association of Towns and Municipalities, Gerd Landsberg.
However, restricted range of movement is hard to control and it is questionable whether it will ultimately have an effect due to the many exceptions, Landsberg said.
The Federal Chairman of the German Police Union, Rainer Wendt, also raised doubts.
"The police can only carry out controls in specific areas, not across the board," he said.
Covid-19 situation different across the country
It's no wonder that states want to do things differently, as the the number of new infections per 100,000 residents within seven days (seven-day incidence) varies hugely depending on where you are in the country.
Nationwide across Germany, the incidence number on Wednesday morning was 127.3.
The highest incidences on Tuesday were in the state of Saxony with 262.1 and Thuringia with 244.6. The lowest value was in Bremen with 73.7.
The below map by DPA shows the districts with the highest incidence numbers in Germany. Areas coloured with dark red, which have an incidence rate of over 200 new infections per 100,000 residents in seven days, will face the restricted movement rule – if the state they are in decides to implement it.
Merkel had wanted to introduce this rule to areas with an incidence number of 100 which would have affected most of Germany. However, she failed to push this through.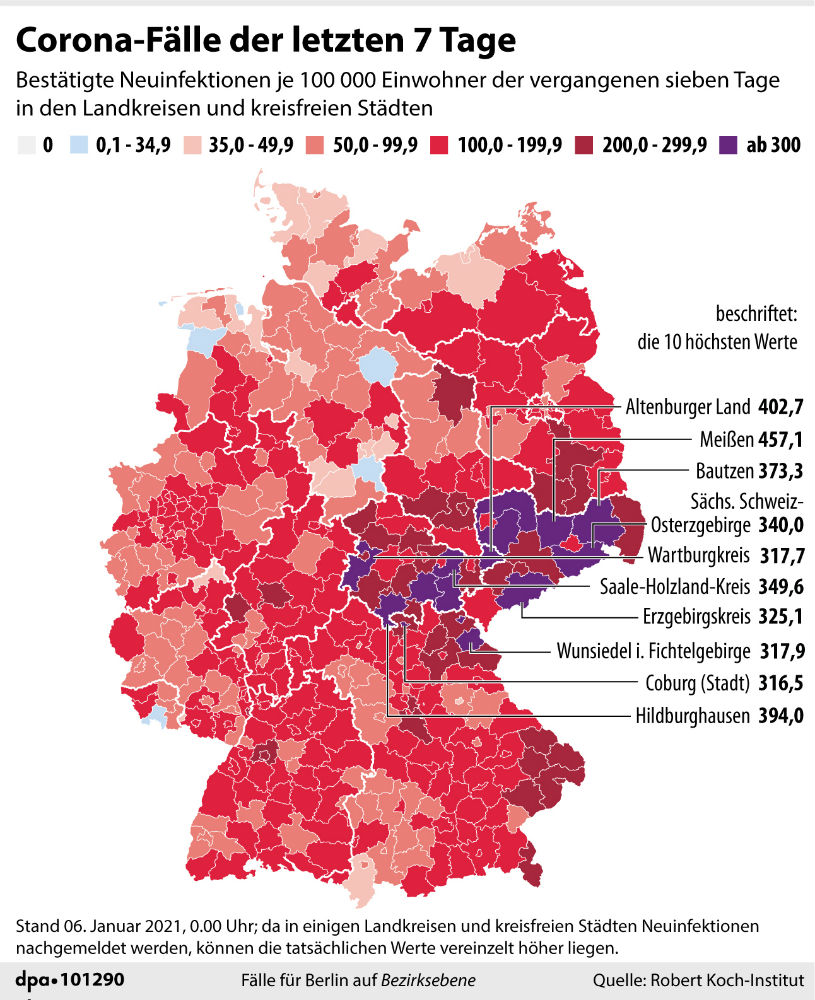 On Wednesday, Germany reported 21,237 new Covid-19 infections within 24 hours. Just over 1,000 deaths were logged within that time.
However, officials say it is difficult to interpret data at the moment because of delays at Christmas and at the turn of the year. The Robert Koch Institute says data should become more reliable again from next week.
Differences in dealing with schools
There is also no uniform picture emerging among the federal states on how to deal with schools.
The government and federal states decided that schools and daycare centres (Kitas) should remain closed until at least January 31st, but stressed that it was a priority to reopen them step-by-step as soon as possible. They estimate that would be from February.
However, some areas plan to move at a faster pace.
Baden-Württemberg's state premier Winfried Kretschmann (Greens), wants to reopen primary schools and daycare centres in the state from January 18th if the numbers allow.
FACT CHECK: What's the latest on Covid-19 (and the new variant) in Germany
In the northern state of Mecklenburg-Western Pomerania, premier Manuela Schwesig (SPD), wants to allow pupils in graduating classes to return to the classroom next week. This includes grades 10, 12 and vocational students.
She also held out the prospect of resuming attendance classes from January 18th for primary school pupils living in areas with fewer than 50 new corona infections per 100,000 inhabitants within a week.
These currently include the city of Rostock and the district of Rostock. It's unclear how a concrete implementation, for example of class sizes, might look.
Meanwhile, the state government in Schleswig-Holstein wants to extend the lockdown at schools and daycare centres until the end of January.
"This means that face-to-face lessons will not be able to take place in schools until the end of January either," said head of government Daniel Günther (Christian Democrats).
In Bremen, which has a lower coronavirus incidence than the rest of the country, schools will be open but there will still not be compulsory attendance for the moment.
Other states such as Thuringia and Saxony are considering how they can incorporate school holidays into any closures.
Keep an eye out on official rules in your local state and district in the coming days. We'll also make sure to publish any large differences on The Local Germany.