Vaccination against coronavirus has been underway in Germany for a little over a week, with the first jabs given to a 101-year-old woman in a nursing home on Saturday December 27th.
READ ALSO: 101-year-old woman first to get vaccine in Germany
Before vaccines began, Health Minister Jens Spahn said that  "There will be a few setbacks here and there."
Many feel that his statement is proving true, as other countries make faster progress and there is still confusion about how and where to get the important jab.
Here's the latest on who's getting vaccinated, and what Germany can expect in the coming weeks.
Just how quickly are vaccinations being rolled out?
So far, 1.3 million doses of the vaccine from the Mainz-based company BioNtech have been delivered to 16 German states. 
The first jabs were given to residents at care and nursing homes, people over 80 years of age, as well as care workers and hospital staff who are particularly at risk. 
On Monday January 4th, the Robert Koch Institute announced that about 265,000 vaccinations had so far been given in Germany.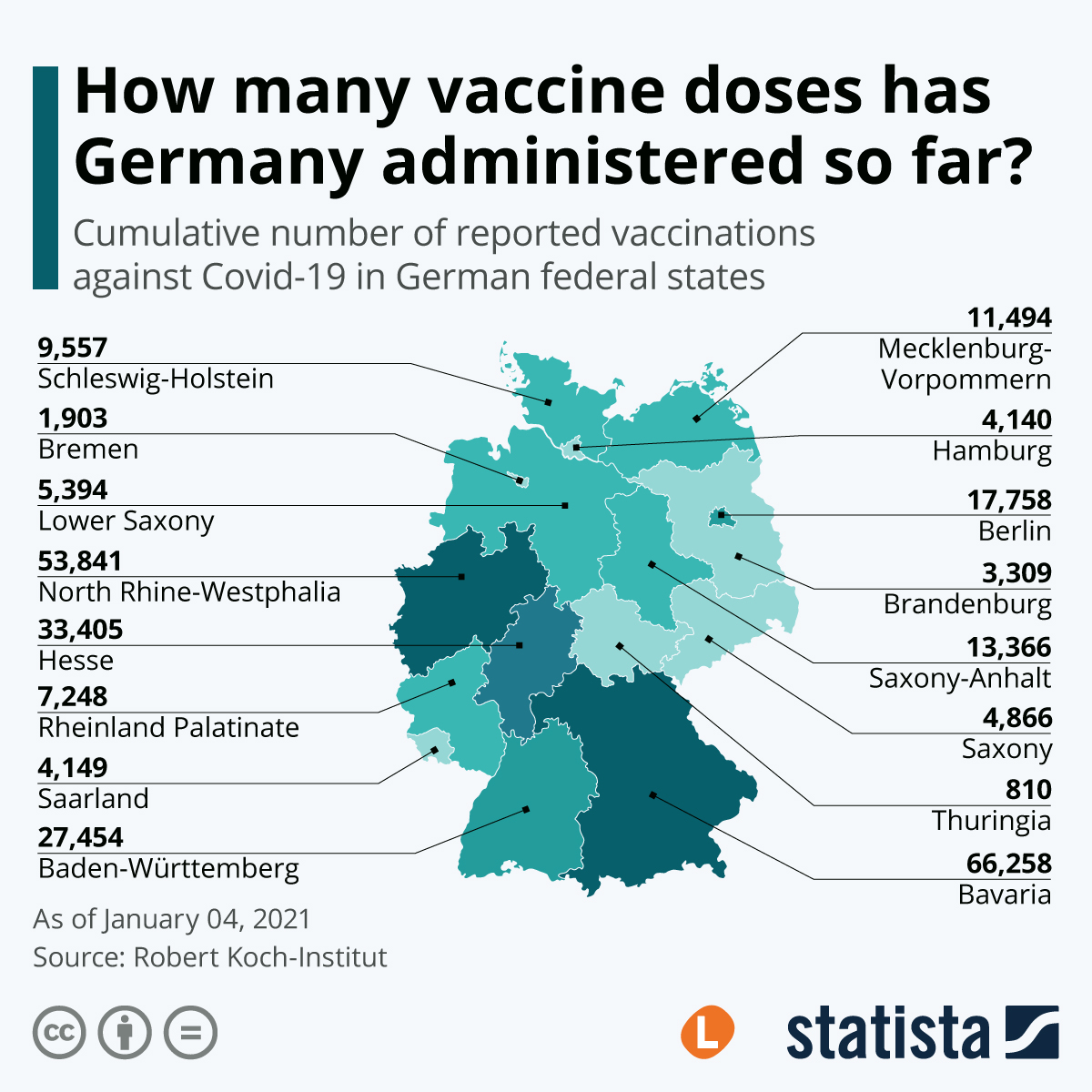 This map shows how many vaccine doses have been administered around Germany. Graph made for The Local by Statista.
Many complain that there is simply not enough of the vaccine to go around – especially since two doses each of the vaccine, to be spread out over a few weeks, are required for immunisation.
Germany's Ministry of Health, however, attributes the delay to the fact that residents at care and nursing homes are often not mobile, so vaccination teams have to travel to the homes.
This takes longer than mass vaccinations in a vaccination centre, many which are currently being set-up around Germany in a bid to vaccinate the general population by the end of summer 2021.
In addition, short doctor's consultations are scheduled before vaccination.
READ ALSO: EXPLAINED: How Germany will roll out Covid-19 vaccinations after Christmas
When will the next vaccines be made available?
The next batch of BioNtech vaccine will arrive in Germany on Friday January 8th. Three more delivery dates are scheduled each Monday until the beginning of February. Another 2.68 million doses of the vaccine are scheduled to be distributed to all German states through February 1st.
Vaccines from another manufacturer could still be added to the total doses in January: The German government expects EU approval for Moderna's vaccine on Wednesday January 6th.
 "We will then quickly coordinate the exact delivery plans for this vaccine with the EU and the company," the Health Minister announced on Monday.
Health Minister Spahn told "RTL Aktuell" that all nursing home residents would be vaccinated in the course of the month. 
"We can achieve this goal in January," said Spahn.
However, exactly how those over the age of 80 who do not live in care homes will get their vaccination varies from state to state.
In Baden-Württemberg, for example, they can already book appointments for the vaccination centres by telephone, but this is not yet possible in North Rhine-Westphalia. 
It is also still unclear whether all those over 70, the next group set to receive vaccinations, will be contacted by their municipalities or insurance companies.
Delays due to lack of approvals
In November, EU states ordered as many as 300 million doses of the BioNtech vaccine, which will be distributed among the 27 EU states according to population size. In addition, there are framework agreements with five other manufacturers. 
In total, the EU has purchase rights for almost two billion vaccine doses, more than enough for the 450 million people in the EU. The problem is that so far only BioNtech/Pfizer has EU approval. 
It is not yet clear exactly why and when which quantities were ordered from certain companies – the contracts are secret. 
It's possible that BioNtech and Moderna were not first choice for some EU states at first, because of the novel technology and because of the prices. 
As a Belgian state secretary recently wrote on Twitter, a dose of vaccine from Moderna costs the equivalent of around €15, from BioNtech/Pfizer €12, and from Astra Zeneca only €1.78. In the case of the latter, for example, there is no need for sophisticated cooling technology.