Accompanied by rowdy rock music, packs of girls in lacy tutus, short-shorts, stripped socks and ripped nylons circled an oval track in Berlin on Saturday night, bumping hips and bottoms to push ahead and score.
What might sound like a meat-market nightclub was actually Germany's first-ever roller derby championship. The arena was jam-packed with the country's wildest and wackiest skaters, as well as plenty of fans turning out to root for their favourite derby gals.
Andy, a young man whose girlfriend plays for the Hamburg team, said that other sports like football and basketball tended to be too serious for his liking. "This is more fun," he said with a laugh. "You have a lot of punks and freaks here, and the music is great."
The Berlin Bombshells hosted Saturday's competition involving five German teams from Ludwigsburg, Stuttgart and Essen, along with a joint Hamburg-Bremen roster called the Hanse-Connection.
An afternoon of furious and frenzied action rolled into the night, as tension mounted ahead of the final. Despite their home advantage, the Bombshells lost to the Stuttgart Valley Rollergirlz in a tight 128 to 124 match.
An American import, roller derby has only recently become popular in Germany and Stuttgart formed the country's first team in 2006. Since then, its reputation as an expressive and exclusively female sport has soared among young women wanting to get fit while taking a turn as a femme fatale on roller skates.
The Bombshells were founded in May 2008, when the team's captain going by the moniker Master Blaster came to Berlin from California's Bay Area.
"When we started, we didn't know anything about roller skates," Master Blaster, who is also known as Molly Stenzel, told The Local. "So we did some research and met once a week to figure out how to structure ourselves."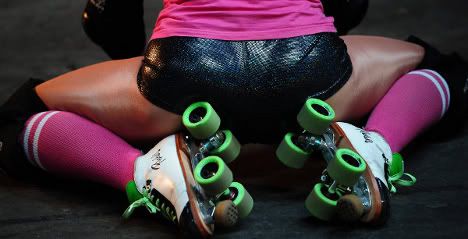 Click here for a roller derby photo gallery
With four new teams popping up this year across Germany and almost 50 players in the Berlin-based league, Bear City Roller Derby, the sport is gaining popularity while continuing to recruit roller girls. Three times a year, the league offers an open-call for a 10-week beginner course that teaches skating techniques and the rules of the derby.
"At this point we have nothing but room to grow, so everybody is welcome to come and to train," said Stenzel.
With two teams full of skaters, a handful of referees, scorekeepers and penalty trackers, the rules and idiosyncrasies of roller derby, developed by the Women's Flat Track Derby Association (WFTDA), take some getting used to. Basically, each team has an appointed jammer who must break through the pack of blockers, four girls from each team, in order to make laps and score points in a two-minute countdown period called a jam. The restrictions on how a player can block are taken very seriously.
Penalties are doled out for any illegal moves that include using forearms, hands and heads, which can result in wobbling, falling and often creating a five-girl pile up on the track. As for the potential of cattiness among the girls, a referee explained to The Local that fighting is forbidden and that the few minor tiffs that occur during matches are purely for entertainment value.
With a defining dynamic and approach to the game, each team toggles between sportsmanship and showmanship, while combining the styles of the rockabilly and punk subcultures. According to their team captain, the Berlin Bombshells are extremely sport-oriented.
"We are interested in playing at the highest levels worldwide, but we like to have fun too," said Stenzel, who scored a wealth of points for her team during the final match. "There's a lot of positive, loud and wacky attitude that keeps everybody excited."
During the final, flag runners peeled around the track during time-outs and a mascot in a full-bear costume danced in support of the Bombshells.
"This year our focus was really to bring German roller derby to the next level," said Stenzel.
She has been aided by the efforts of player's like Stuttgart's Blitzkrieg Baby, who shined brightly all the way into the stands on Saturday with her powerful style and sexy black and hot pink uniform. "I love this game because every kind of girl can play it," she said.
Besides willing the first German championship, Stuttgart have performed well against UK teams this year. But that hasn't stopped them from developing a close bond with London's Rock 'n Rollers, whom Blitzkrieg Baby calls their sister team.
Sisterhood was most definitely evident amongst all team members and throughout the mixed crowd of Germans, Dutch, Belgians and Scandinavians. Two roller derby fans and players, Fist F*cker from the Swedish city of Malmö and the 1950's waitress-turned-movie starlet named Agent Anchor from nearby Copenhagen, traveled all the way to Berlin to catch the German championship.
Holding corncob pipes between their teeth, with the word crack written across the bowls, they said they hope to play against the Bombshells one day.
"It's good fun," said Fist F*cker. "You develop yourself and your mind and body. And it's all girls, which means good laughs and good spirits."